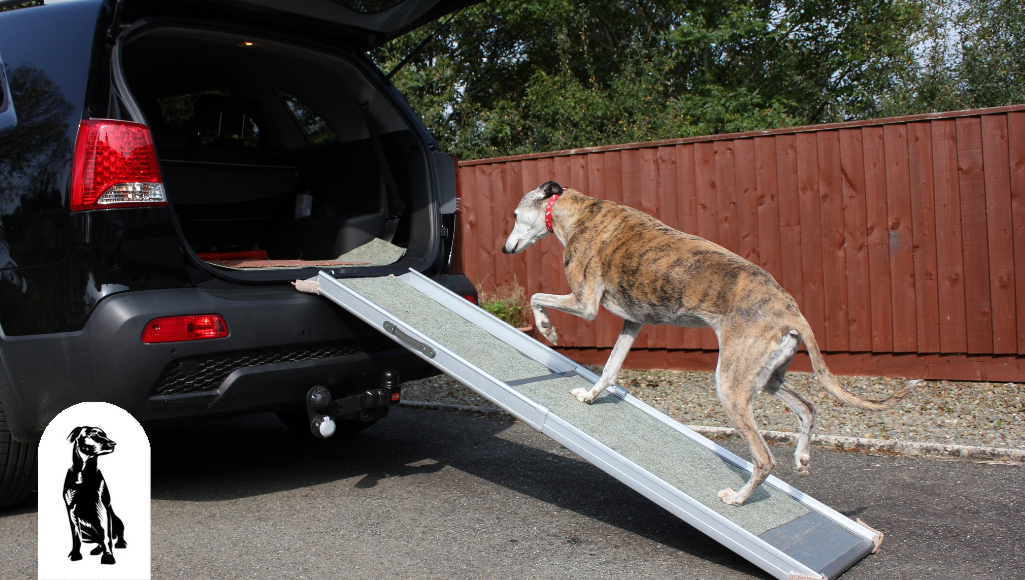 Taking your dog along for a car ride can be as fun as it can be stress-inducing. As many owners are aware, the importance of securely restraining your pup when driving can't be overstated when it comes to ensuring their safety along with your own. Although crates are usually one of the go-to options when it comes to traveling with your pup, many people aren't able to or don't prefer to use them.
Here's how to transport a dog in a car without a crate:
Use a travel harness.
Use a back gate.
Use a carrier.
Use a booster seat.
In the following sections, I'll take you through each of these approaches and everything you can do to ensure your dog a safe and enjoyable ride.
1. Use a Travel Harness
Travel harnesses are one of the most popular alternatives when it comes to restraining your pet during a car ride. This is due to their adjustability, which makes them ideal to use on almost any sized dog. 
Furthermore, they are far less restrictive than a crate or carry box, allowing the dog to freely move around and enjoy the surroundings.
Always try to opt for a harness when restricting your pup for a ride and not a leash. The two might seem interchangeable when going for a walk. But in an already restrictive and enclosed space such as a car, the tight feeling around the neck might make some dogs uncomfortable or angsty.
On the other hand, a harness offers enough room to move and turn while still keeping the animal controlled and out of harm's way. Additionally, they make it much easier for you and your pet to get in and out of the car, as all you have to do is clip or unclip the clasp into place, and you'll be good to go. 
Another advantage that makes harnesses one of the best approaches to use when traveling with your pup is their accessibility. As a dog owner, chances are you already own one, and if not, you can easily find them at almost any local pet shop.
If you're considering using this method for your next car ride, keep in mind that there are two different ways you can make use of the harness, depending on the personality of your dog.
Harness Seat belts
Harness seatbelts are ideal for older, calmer, more well-behaved dogs. 
They can be adjusted for any sized pet and allow a greater range of mobility compared to other methods. As always, before strapping in your dog, make sure that the harness fits perfectly to allow for optimal comfort.
Ideally, you should be able to run two fingers between your pup and the harness' neck and chest area. 
Furthermore, you'll want to look for an option made out of soft material with adequate padding, especially if you plan to go on a longer ride. This will ensure that your pet's skin is comfortable and chafe-free throughout the journey.
If your dog is especially small, you can always use a booster seat in addition to your harness. Additionally, make sure to check on your pet from time to time to gauge how they're enjoying the ride and to ensure they haven't chewed through the strap.
The setup process is as easy as it gets. Here are a few simple steps you'll need to follow:
Get your dog inside the car.

Slide the car's seat belt through the loop placed on the dog's seat belt.

Buckle your dog in.

Comfortably place your dog in the car seat, or a booster seat if needed.

Connect the clasp to the harness.

Adjust for optimal comfort.
As you can see, the setup process shouldn't take longer than two to three minutes as a whole, maybe even less after you've gotten used to the motions. 
I want to reiterate the importance of finding a harness that fits perfectly, because if you don't, your dog will either struggle to breathe normally or will be able to get out of the contraption with ease, rendering the whole process useless.
If you're not sure about the ideal size for your pup, know that it is usually better to size up than down. When it comes to small error margins, a size too big is always more usable and adjustable than a size too small.
Another factor to consider before buying a harness seat belt is how compatible the product is with your preferences. Some options on the market are designed to clip onto the rear passenger seat belts, while others can be attached to booster seat connectors.
The Importance of Seat Belts
A functional seat belt is as crucial to use for your pet as it is for yourself while going on a car ride. Properly restraining your dog is the only way to enjoy a safe, stress-free journey for everyone involved.
If at some point your pet becomes angsty, nervous, or excited they can easily jump, fall, and distract you while leaving them open to a wide range of injuries. For this reason, restraining your dog through a seatbelt is not only a safe practice but a legal requirement in many locations.
Additionally, whenever your pup is joining you in the car, you'll want to put down a car seat cover. This will ensure your seats are protected from any potential messes or scratches, and your dog will stay comfortable the whole time.
Best Harness Seat Belts
Although there's no shortage of options on the market today, finding the ideal harness seat belt for your dog can sometimes get frustrating. It's often hard to be able to find an alternative that fits your needs, requirements, and budget on the first try, but it's not impossible.
Before browsing through your options it's best to think about what features and qualities make your top list of priorities. These characteristics can be anything from material softness, durability, comfort, crash-safety, size, or price range. 
Make a shortlist of your must-haves and stick to them when searching for a harness, as doing so can help you quickly filter out dozens of options that you wouldn't have been satisfied with either way. 
To help you narrow down your preferences even further I'll take you through some of the most popular models on the market today.
Kurgo is one of the most popular car harnesses from Amazon.com, and it's made out of high-grade durable nylon. This product has gone through impressive levels of crash testing, while its buckles are made of high-quality steel engineered for rock climbing. 
The material is gentle on the skin and comes with extra padding throughout the chest plate, a design choice made to reduce stress on your dog's windpipe and sternum. Furthermore, the seat belt strap is compatible with almost any vehicle, making it ideal for families operating with more than one car as well.
If you can't seem to find an option that's compatible with your vehicle, the VavoPaw harness is an excellent alternative from Amazon.com that can be strapped into any model. Its adaptability relies on its use of a carabiner, which you can utilize to attach the harness to the seat's headrest rod or latch bar as opposed to its buckle. 
The durable, high-quality Oxford material provides optimal comfort and safety for your pup, while its three-point design reduces unwanted movements that could be hazardous otherwise. 
Another advantage of this product lies in its wide usability, as it can double as a walking harness in an instant. Furthermore, its X-shaped structure provides stability that can prevent your dog from suffering a number of injuries throughout the ride. 
The VavoPaw harness comes with a D-ring that makes it much easier for it to install, providing you with optimal convenience when getting in or out of the car.
Don't be fooled by this option's affordable price, as its features are just as vast and impressive as the previous alternatives. 
This Lukovee product from Amazon.com is a well-made, breathable harness made out of high-quality mesh. Its design features an innovative bungee cord attachment included to prevent jerking in case the vehicle makes a sudden stop. 
It is easy to use and comes with a quick-release feature, allowing you to get in and out of your vehicle in no time. 
This budget-friendly alternative comes in a variety of sizes, making it that much easier for you to find the perfect fit for your pup. Its mesh fabric is not only breathable but also very sweat-absorbing to ensure optimal comfort levels for your pet.
Zipline Harnesses
Zipline harnesses are ideal for younger or more active dogs who find it hard to stand still for a prolonged amount of time. 
For this reason, the zip line feature is crucial in this instance, as it restrains your dog and prevents it from doing any exaggerated movement, while still providing adequate mobility to keep your pup comfortable and content.
Setting up a zipline harness is a straightforward process that generally goes through a few simple steps:
Attach the hooks found on the zipline to two points of your choice as high above the ground as possible.

Attach one end of your running cable to one of the hooks.

Secure the connection using a clamp.

Adjust the length depending on your preferences.

Thread in the pulley and attach the other end of your running cable to the remaining hook.

Secure the connection using a clamp.

Link the first end of your dog's leash with the pulley and the second with its harness.
Zipline harnesses may not be as popular as their regular seat belt counterparts, but you can still find a wide range of models and sizes on the market today. With that said, as always, there are a few important factors you'll need to consider before making a purchase as not all options will be suitable for your needs.
The first element you'll need to consider is the size of your dog. 
Bigger, bulkier dogs require thicker cables that can withstand their weight and strength. Alternatively, smaller dogs require thinner, more comfortable ziplines, as otherwise they may feel suffocated or weighed down. 
Additionally, you'll want to think about all the characteristics that have made it into your priorities list that I previously mentioned, including material, which should be as durable as it is gentle on your pup's skin.  
With these qualities taken into account, here are some of the highest-quality zipline harnesses you can find on the market today.
Zipline harnesses from Amazon.com don't get much better than this universal, expertly-made alternative from Kurgo. It is not only easily attachable to any points of your choosing but its hooks are made out of a high-grade rubber material that prevents any scratches or damages to your vehicle.
This product can also double as a normal walking harness, allowing you to comfortably get out of your car in no time. More importantly, the harness does a fantastic job with any high-energy dog that can feel nervous or anxious when restrained, as it still offers a great range of mobility while keeping your pup restrained and safe.
You can choose between a wide range of zipliner lengths, which will allow you to easily find a fit that's ideal for your dog's size and car space. This product is made out of high-quality nylon, which gives it unparalleled durability and longevity. 
For those who are still unsure or on the fence, Kurgo offers a lifetime warranty, so there's no reason not to give this best-selling zipliner harness a try.
This affordable alternative is another excellent option for those looking to keep their high-energy dogs safe and happy. The PetSafe harness from Amazon.com is easy to set up and comes with an extra-long zip line, making it ideal for those driving bigger cars or even trucks.
With that said, you can easily adjust the length to better fit your preferences and space. 
The high-quality nylon PetSafe uses for its product ensures longevity and comfort for your pet's skin. When it comes to the variety of features, you won't be able to find an option that offers a better value than this one, so don't hesitate to give it a go.
2. Use a Back Gate
When there's not enough space for your dog to comfortably stay in one of the back seats, letting it sit in the very back as is doesn't always provide the necessary level of safety that might be required. For this reason, you might want to look into investing in a high-quality back gate, which can be useful in more than one way.
First of all, a gate keeps your dog secure and restrained and doesn't allow for any distracting moves or jumps to happen. 
Secondly, and most importantly, it offers a significant amount of protection to your pet as well as the passengers in case of an accident. This is because it prevents the dog from being thrown forward, which can lead to deadly consequences for all involved.
It's important to ensure that your guard is securely bolted to the floor and roof of the vehicle, as otherwise, a bigger dog can easily knock it out of its position. The installation process may take a bit of time, but the good news is that is the extent of your effort when it comes to using this method.
After bolting the guard securely and locking it inside the roof you won't need to do much more any time you want to safely drive your dog around. 
In contrast to the previous method where you'd need to strap and unstrap your pet from the harness system, in this case, all you need to do is get it in and out of the car and you'll be good to go.
Back gates are often preferred over crates because although they serve the same overall purpose, and offer your dogs much more mobility and space. This can significantly help with making a sometimes difficult process much more enjoyable for them.
As you can tell by now, a back gate is always an affordable approach to safely traveling with your dog, which is why you may want to take a look at some of the best options available today to see if this method fits you and your pup's needs.
This Sakura Headrest Dog Guard from Amazon.com is one of the best-selling alternatives when it comes to back gates due to its quality and ability to adjust to any vehicle model. It is a simple, but highly effective product that protects not only your pet but any other occupant as well while your car is in motion. 
Sakura has produced an excellent dog guard that doesn't require any tools or expertise to be installed, meaning that if you can spare a few minutes of your time you'll be able to set it up in your car with little to no effort. 
One of its main selling points is its ability to adjust to almost all hatchbacks, 4X4s, small vans, and crossovers. The Sakura dog guard comes at a height of 30 cm (11.8"), while the width is adjustable to allow for a wider range of use. 
Its durable, metal frame can withstand even the largest and heaviest dogs, so as long as you bolt your guard securely, you don't have to worry about any unforeseen accidents happening in the boot of your car.
The Rhino mesh dog guard from Amazon.com is yet another affordable, but highly effective approach to keeping your dog secure while traveling. The installment process doesn't take too long and you won't need any special tools to secure the guard in place.
This gate can be used to transport any dog regardless of its size and weight, as when installed properly it can withstand a large amount of force. Overall, this product offers excellent value at its given price point, so if you're on the lookout for a new dog guard I highly recommend giving this Rhino option a try.
3. Use a Carrier 
Carriers and carry boxes are the closest substitutions you'll find for a crate. Sometimes they're even preferred more due to their light but durable material which makes them much easier to carry around and transport.
You can opt for a metal or a plastic alternative depending on your budget and preferences. Beware that some alternatives can only be used for limited amounts of time as they can be too enclosed and don't offer proper air circulation.
No matter the material or shape of your carrier, always use it in conjunction with your dog's harness to provide the utmost safety for your pet when traveling. 
More importantly, when choosing a carry box, finding a size that's spacious enough for your dog not to experience any excess stress is crucial. This means that carriers are usually best suited for smaller, lighter dogs, as otherwise they can get too impractical and become impossible to carry.
Due to their unbelievable popularity, you'll be able to find an endless number of options in the market when it comes to carriers, which means that it can be even harder to pick out the right product. 
To help you out a bit in your search, I've created a shortlist of some of the most popular models among dog owners currently.
The Henkleton dog carrier from Amazon.com is one of the most highly-rated alternatives on the market. This soft, durable pet box can carry up to 11.3 kg (25 lbs). 
Although the specifications by themselves are highly impressive, the glowing reviews can give you a much better understanding when it comes to the value and quality of this product. Therefore, even though it might be a bit pricey, investing in a Henkelion dog carrier will deliver excellent value in the long run.
This X-Zone pet travel carrier from Amazon.com is pretty similar to the first alternative as far as exceptional quality and longevity. With that said, while this option is a bit more affordable, it doesn't include the carrying strap for luggage handles, which might be something that you'll want to consider.
At the end of the day, your ideal choice will depend on your preferences and priorities as both these alternatives offer the same exceptional features and quality.
4. Use a Booster Seat
You might have heard of booster seats as a safe way to bring your small children along for your car rides, but they can work just as well to keep your dogs secure. These types of seats come with their own set of safety features designed specifically for pets, making it much easier for owners to take them along for an impromptu car ride.
The features include safety belts, harnesses, and small divisions surrounding the seat that can prevent your dog from climbing out and causing any possible distraction. Similar to carry boxes, booster seats are ideal for smaller breeds weighing up to 13.6 kg (30 lbs).
Here are some of the best-selling booster seats in the market today.
This sturdy, waterproof seat is the ideal choice for those who have smaller, lighter dogs. This SWIHELP product from Amazon.com comes with durable PVC frame bars that ensure the seat will retain its shape at all times while preventing your pup from crawling out of it.
The booster seat is foldable and easy to clean, making it a perfect option for those struggling to properly care for their dog's equipment.
Made out of a sturdy Oxford fabric, this Burgeon Nest Dog Car Seat from Amazon.com high-quality booster seat comes reinforced with double stitches, making it one of the most durable options on the market today. 
Additionally, the breathable base material is as soft and comfortable as it is durable, meaning that your pup will be able to go through longer journeys with ease and enjoyment.
The BurgeonNest dog car seat is easy to install and detach. The adjustable buckle design is compatible with all vehicle models, while the sturdy nylon straps can keep your puppy secure in one place and prevent it from moving excessively or jumping out mid-journey.
Furthermore, it comes equipped with added storage space allowing you to conveniently store your pet's daily necessities. The cleaning process is also a breeze, as this car seat is built-in sliding zippers, while the stuffing is packed separately. 
This means that it can quickly be taken out and washed with little to no effort.
Therefore, if you're on the market for a high-quality, convenient booster seat, this BurgeonNest alternative might be the ideal choice for you.
Conclusion
Keeping your dog secure throughout a car ride is crucial, and luckily you don't always need a crate to do so. From travel harnesses to booster seats, there's no shortage of excellent affordable methods that allow you to bring your pup along for any adventure. 
As long as you take some simple precautionary measures, your pet is guaranteed a safe and enjoyable journey.
Another way to keep your pup happy and comfortable during their adventures in the car is to install a car seat cover! Here at Plush Paws, we are passionate about making our cuddly friends as comfortable and safe and possible. One of our car seat covers paired with your vehicle safety option of choice is going to be the perfect combo. So get your car ready for your dog and enjoy your next road trip!
Sources