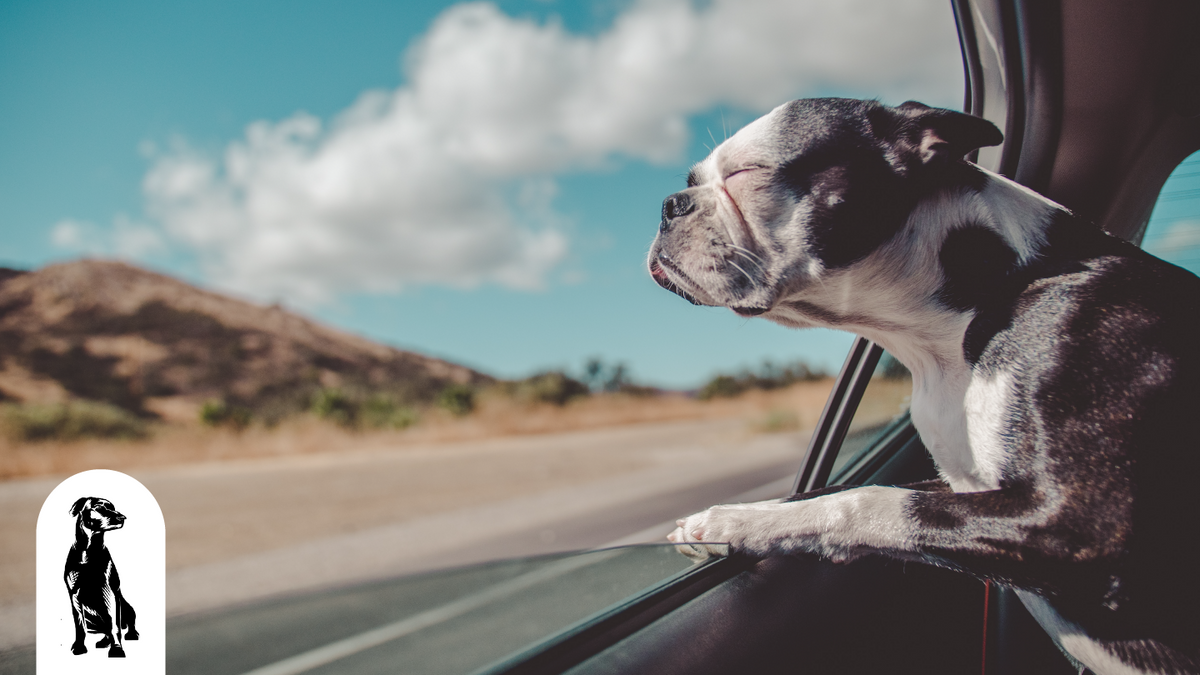 It's time to start planning your trips for this next year, so if you're looking for dog-friendly road trip ideas, you're in the right place!
Road trips are a great way to experience new terrain and have memorable experiences for a reasonable price. Road tripping with your dog can be a memorable bonding experience, and the memories you make will last a lifetime. If you're road tripping with your pal, you should have several dog-friendly road trip destinations on your list of places to go.
Cross Country Dog Road Trip Ideas
Are you heading on a cross-country road trip with your dog? Consider planning some of these general stops along the way!
Dog Parks

: Go on a cross-country road trip and hit different dog parks across the country. Catalog the experiences with photos and videos. 

Explore the great outdoors:

Taking your dog to pet-friendly national and state parks can be an excellent experience for both you and your pup.

Travel the coastlines

: The east and west coast have historic highways that can take you through ocean bluffs and open grasses. 

Dog-centric vacation resorts

: Find resorts or vacation spots with a

pet package

, perfect for you and your canine friend to explore and hang out. If you're traveling across the country, try to hit a few along the way.

Open roads

: During cross-country trips, you'll have plenty of opportunities to hit the best routes in the country. You might have a dog that simply loves it when you roll the windows down and they get to

stick their tongue out

. Find back roads and highways that offer your dog a bunch of new scents and sights. Enjoying the open air is the best way for your pup to get the most out of the ride and is possible for any of these cross-country road trip dog ideas.

Dog-friendly attractions

: Visiting dog-friendly road trip destinations will be a fun experience for both of you! Get creative with these intersections of dog-friendly and human-friendly places. More and more locations and entertainment experiences are catering to people who have dogs.
1. Dog Parks
These parks are built for you and especially your dog to have a good time. As you travel the country, make a list of all the places you want to hit, see if any of these bucket list dog parks line up with your plans.
2. The Great Outdoors and Camping
If you're an outdoors lover, chances are your dog loves being outside too, so camping might be the perfect activity. Humans and dogs can have a great experience by shacking up together in the wilderness, sitting around the fire, hiking, and enjoying the great outdoors together. If you're wilderness-bound with your canine friend, you can set up their bed in your tent and share some quality time under the stars!
Of course, all that dirt and mud can create a mess in the car. For the sake of the health and happiness of both you and your dog, try out our best ideas to keep your car clean on the road trip.
Camping with your dog isn't too tricky, but just remember to have appropriate amounts of food and water for both you and your furry friend. Also, keep in mind that if camping for you involves a change in altitude or humidity, this can also affect your dog's experience. They might tire out a bit more easily or start feeling sluggish. Take it easy on them and provide them with plenty of water and quality nutrition.
3. Coastline
You can create some of the best memories along the beaches and open waves of the coast. The east and west coastlines have great highways that you can drive along with your dog. On the way, you'll encounter state parks full of beach destinations for you and your furry pal to swim, bask in the sun, and play in the sand together. If you're bringing your dog to the beach, bring plenty of fresh water and a source of shade to reduce any risk of heatstroke.
4. Dog-Friendly Vacation Resorts
If you're looking for pet resorts, there are a bunch of vacation resorts that cater specifically to you and your pet. If there's one thing that both humans and dogs can agree on during a road trip, a luxurious resort atmosphere makes the long trips worth the wait!
When picking a dog-friendly vacation, make sure to consider the personality of your canine friend. Do they like the great outdoors? Do they crave a little extra peace and quiet? Will they want to play with other dogs or just have some one-on-one time with their favorite human? Find something that you'll both enjoy.
If you've never traveled with your dog before, check out Your Dog Advisor for some valuable tips.
5. Open Roads
Open roads are pretty easy to work into your road trips. Dogs love sticking their heads out the windows. Noses are one of the strongest senses on a dog, so the number of things they can pick up blowing in the breeze is wonderfully stimulating for them. 
Route 66 is a historic, 315-mile stretch of road through the heart of the United States. It's also a super dog-friendly road trip. Your canine companion is even welcome at many monuments along the way. It's one of the best roads you can drive with your dog.
While you might not want to make these the ultimate destination of your road trip, interstate rest stops can be a great place to get a break with your dog along the way. Make sure to stop every once in a while to let your dog stretch their legs, take a bathroom break, and drink water.
6. Human and Dog-Friendly Vacation Spots
Remember to make it about you as well! If you want a more holistic, cultivated experience, try checking the best dog-friendly vacation spots with outdoor locations and nearby hotels and resorts that can accommodate pets. 
Places like Orcas Island, Washington, and Cannon Beach, Oregon, have amazing wilderness adventures on which you can take your dog and are close to resorts with special pet packages. 
Cross Country Road Trip Tips
Road trips with your dog don't have to be super long or stressful. After you've picked that perfect location and have meticulously planned out your route with yarn and a map, you'll need to plan the logistics of the trip. Your canine friend will need special accommodations along the way to have a happy, healthy road trip. Don't attempt a more extended road trip with dogs that aren't yet familiar with the car. 
The best road trips with your dog start with excellent preparation and will allow you to call audibles along the way. You might have plans, and your dog might have other needs that come up. Stay in tune with your dog's needs for a better road trip experience, and avoid common road trip mistakes that even the best dog owners tend to make.
Road trips can be confining for your pet. Try using dog seat covers to give your pup enough freedom to stretch out. These covers not only keep your car clean but also present a familiar fabric for your dog to smell and feel. To get your dog more accustomed to its spot in the car, try introducing the dog seat cover before you go on the road trip.
Take care to avoid motion sickness for your dog by keeping them in a cool-temperature environment with plenty of fresh air, ensuring they have the right foods to calm their stomach instead of upsetting it. While traveling with your dog, always be willing to stop for a minute to let them catch their breath and equilibrium.
Plush Paws Products Is Wishing You Safe Travels
We wish you luck as you head to all your dog-friendly road trip destinations. If you're heading out soon, don't forget to bring our Plush Paws Products car accessories with you to keep your pup safe and comfortable along the way. 
We ship our products worldwide, so shop with us online today to discover our seat covers and pet health products!