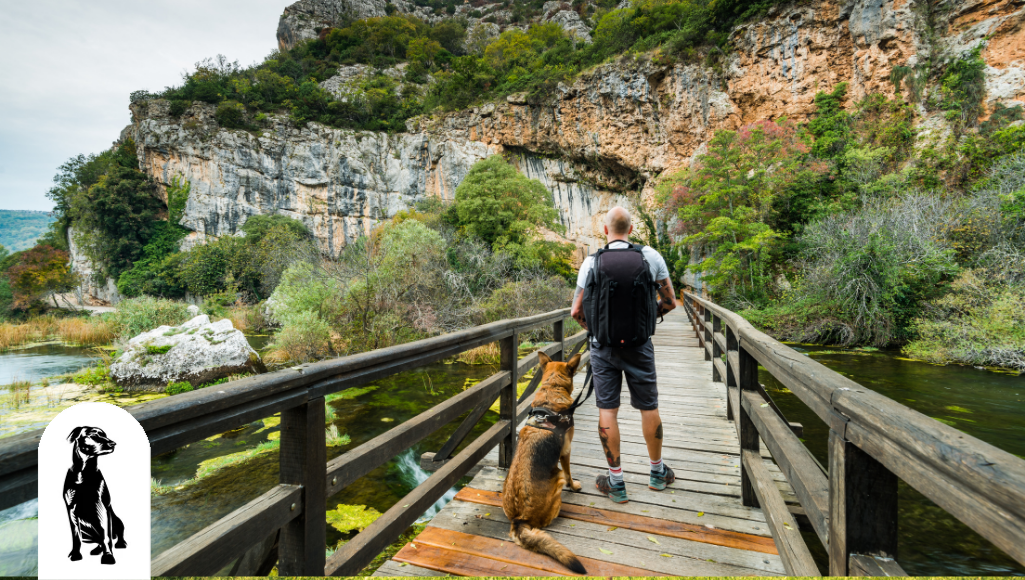 Did you catch the travel bug? What about your pup? Here are five more destinations we recommend for your tour of the national parks with a dog. 
There's no denying that the United States of America is home to some of the best national parks and stunning scenery and wildlife. After checking out part one of this guide, you may be interested in other places you, your family, and your dog can check out on your road trip. Stay tuned for another five popular national parks where dogs are welcome. 
Grand Canyon National Park, Arizona 
The Grand Canyon is held in high regard and known as one of the most beautiful and popular national parks in the United States. But did you know that you can bring your dog along with you on your trip? Leashed pets are allowed on trails above the South Rim, the Mather and Desert View campgrounds, Trailer Village, and other paved areas. If you need dog-friendly lodging, Yavapai Lodge has pet-friendly rooms. There is also boarding available for pets at the South Rim Kennel for the days you want to visit trails where dogs are not permitted.
Cuyahoga Valley National Park, Ohio
Cuyahoga Valley National Park is one the most pet-friendly national parks in America. If you're traveling the national parks with a dog, this is a must-visit, especially for pet owners that love hiking. There are over 100 miles worth of hiking trails in this park, and there are only a few that do not welcome dogs or any other domesticated pet. 
For safety reasons, pets and service animals must steer clear of the East Rim mountain bike trails. Pet are not allowed in the federal park's buildings, including the visitors' center, and they cannot walk the Cuyahoga Valley Scenic Railroad. 
Here is a quick list of popular dog-friendly hikes within the park: 
Towpath Trail, from Ira Trailhead to the Indigo Lake connector

Towpath Trail, from Canal Exploration Center to Tinkers Creek Aqueduct

Oak Hill Trail 

Lake Trail 

Pine Grove Trail 

Cross Country Trail 

Tree Farm Trail 

Salt Run Trail 

Buckeye Trail 
Congaree National Park, South Carolina
Pets are allowed on all trails, including the boardwalk and in the campgrounds in Congaree National Park. This park is home to walking paths, sweeping rivers, and diverse wildlife habitats. Pets are also welcome to join their humans on a float in a kayak or canoe upon the rivers. With over 25 miles of hiking trails and 2.4 miles of boardwalk, you and your furry friend can take in the stunning campion trees and wildlife from a safe distance. There are a select few waste stations in the park, so you may want to come with doggy bags in hand. 
In Congaree, you can canoe, kayak, fish, hike, camp, and more alongside your fluffy companion. Bring a well-fitting floatation device for you and your pup for safety measures. 
Bryce Canyon National Park, Utah 
Bryce Canyon National Park may be small compared to other surrounding parks, but the view packs a big, nay huge, punch. The park is identifiable for its crimson-colored hoodoos, spire-shaped rock formations. The amphitheater is open year-round but is most frequently visited in the spring, summer, and fall. While the views are spectacular at any time of year, a few trails may not be accessible if there is significant snowfall. 
Although, if you are traveling with a dog, you won't have to worry about any inaccessible trails. Dogs are welcome in all paved areas of the park, including campgrounds, parking lots, paved viewpoints (all are paved except Piracy Point), the paved trail between Sunset Point and Sunrise Point, and the Shared Use Path between the park entrance and Inspiration Point. 
As will all national parks, pets are not welcome in buildings unless they are certified service animals. Pets in the park must remain on a leash at all times, and you must pick up after your pet. There are no pet waste stations in the park, so be sure to come prepared!
Gates of the Arctic National Park and Preserve, Alaska 
Gates of the Arctic National Park and Preserve was created to preserve and protect 8.4 million acres of the diverse and unique arctic ecosystems of Alaska's central Brooks Range. The park is the premier Wilderness park in our parks system and serves as the headwaters for six wild rivers. 
Here, visitors meet challenging arctic terrain, breathtaking views, and rivers that sweep the landscape. There are no restrictions on pets in the national park, but dogs must be leashed or on some type of restraint at all times, with no exceptions. Large dogs, especially ones that thrive in snow, are best suited here with the arctic terrain. With the polar landscape, It's also wise that all dogs are fitted with floatation devices at all times, as the waters are not only frigid but move quickly. If you're bringing your dog to Gates of the Arctic, do your research ahead of time and come over-prepared. 
Safety Tips for Traveling the National Parks With a Dog
Check out our first article in this series to learn safety tips for visiting a national park with your dog. As with any outdoor trip, give your pup access to plenty of food and water. When your dog is outside and hiking, they can step on stickers and other debris that will get lodged in their paws, so check the feet regularly. 
At some of the above national parks, it can be expected for humans and dogs to attract ticks. Check for ticks at the end of every day in the parks. 
Don't Forget to Bring Plush Paws With You
When you spend the days in the national parks with a dog, it's no secret that your adventure buddy can get a bit dirty from time to time. With Plush Paws' car seat covers, you can take your furry friend with you wherever you're headed and keep your car clean while doing it. Whether you're going on a road trip or doing a local hike, you can bring your pup along, no matter their size. We ship all of our products worldwide for dog lovers everywhere. Browse our selection of car seat covers today!