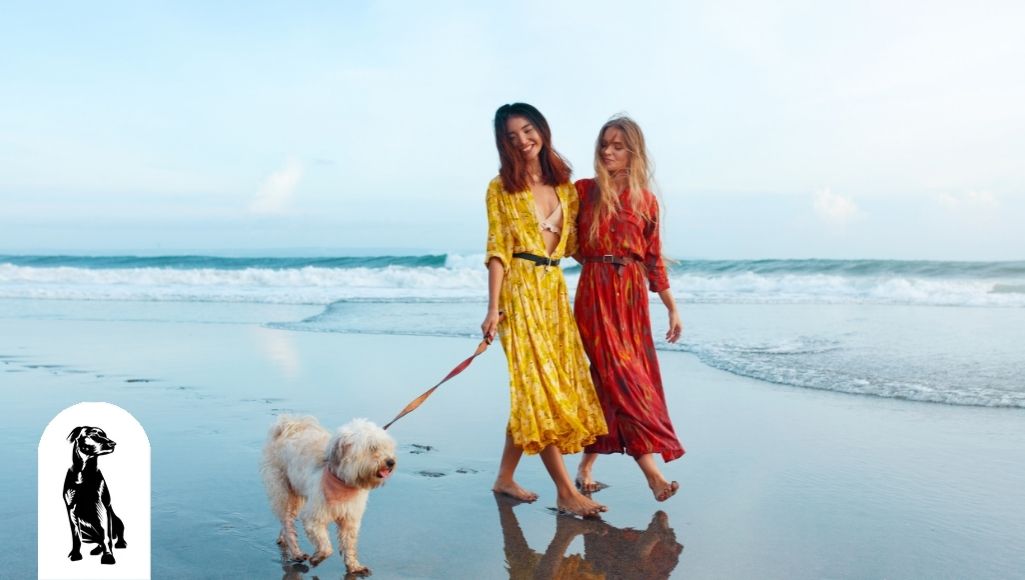 Spending time with your pup in new places is always a blast, so you might wonder if there are dog-friendly things to do near you. 
Whether you are from the Los Angeles area or you're on vacation there, you can bring your four-legged pal along with you for plenty of fun adventures. Between beach days, hiking, and seeing the sites, there's plenty of things to do in the Los Angeles area that are dog-approved. Here's just a few fun ideas you should check out! 
Take a Beach Day at Rosie's Dog Beach (Long Beach)
If you're in Los Angeles, you more than likely want to hit the beach for a day of fun under the sun. Rosie's Beach in Long Beach (only a 28-mile drive from downtown LA) is a great place to enjoy the ocean with your furry friend. Take a stroll near the sea, or take a dip in the shallow part of the water to cool off. Rosie's is an off-leash beach, so you're welcome to allow your dogs to make new friends, but make sure your pup is always close to you and never disturbs anyone who doesn't first show interest in your dog. 
Beach hours for dogs are from 6 a.m. to 8 p.m. There is metered parking within a few blocks of the beach in the Bennett Avenue lot for easy access. Bags for picking up after your dog are available for use on the beach, but owners are strongly encouraged to bring their own and must promptly pick up after their pet. Please also note that dogs are only allowed within the dog zone and the access paths. Failure to abide by beach rules may result in a ticket or fine. 
See the Hollywood Sign at Lake Hollywood Park
Ask anyone in LA—if you want to see the Hollywood sign, Lake Hollywood Park is the place to be. Lake Hollywood is a large dog-friendly park where pups and owners alike take pictures with the Hollywood sign, lounge under a big tree, or meet new friends. According to many reviews, plenty of dogs and their owners love this park, but it is essential to note that this park is not technically an off-leash dog park. The reviews also claim that park rangers will give out tickets and fines if they catch you without a leash around your dog; keep your pup close! 
The park hours are sunrise to sunset, and there is a designated parking lot for the park. While this is a well-loved park, many people say the park is very rarely overcrowded, so if your dog is not a fan of big crowds, this might be an excellent place to hang!
Shop at The Grove
Are you looking for dog-friendly things to do, but still need to run some errands? The Grove is a massive outdoor shopping complex with tons of stores that are dog-friendly, too! Maybe you're just looking for a new scenic place to walk your dog, or perhaps you're in the mood to do a little shopping. Either way, The Grove is the place for you and your pup to kill some time. Between the dozens of shops and plenty of eateries, many of which are dog-friendly, you might find that The Grove is your new go-to hang out with your friend and pup! 
The Grove is open Monday through Thursday from 10 a.m. to 9 p.m., Saturday and Friday from 10 a.m. through 10 p.m., and on Sunday from 10 a.m. through 8 p.m. 
Check out the Healthy Spot Store Events
Healthy Spot is a chain of pet stores across Southern California that puts on many community events and has plenty of dog-friendly things to do. Events include "Bark" to School Picture Day and organized play dates for your puppy pals. There has been fun takes on dog treats, photo booths, and goodie bags at previous events. You can also have private parties there if you want to throw your puppy party. You can check out their events and find the closest location near you on their website.
Browse the Vendors at The Original Farmers Market
In July of 1934, Fred Beck and Roger Dahlhjelm wanted to build a "village" where local farmers could sell their fresh produce and other fares. E.B. Gilmore, the owner of the property at the time, agreed to host the market at the corner of 3rd and Fairfax, and the rest is history. Still standing there today is The Original Farmers Market, where merchants, vendors, and artists sell their foods and goods, all in a dog-friendly setting. Stop by to grab some lunch, check out local artists, and pick up a week's worth of groceries from the produce vendors, bakeries, butchers, and more, while bringing your pup along for a pleasant stroll through the area.
A short walk from The Grove, The Original Farmers Market is still located on West 3rd Street and Fairfax, open Sunday through Thursday from 10 a.m. to 8 p.m. and Friday through Saturday from 10 a.m. through 9 p.m. Many events take place at the farmer's market, including concerts, job fairs, and more. Check out their website for more information on vendors, restaurants, events, and the most recent news about this historical market.
Take a Hike in Griffith Park 
You can't be in Los Angeles without hiking around Griffith Park and the observatory. Bring your pup along to escape the city life and immerse yourself in breathtaking views of the valley. You can find multiple trailheads in Griffith Park, the most popular of which are the West Observatory Loop and Hollyridge trail. When taking your pup on these beautiful hikes, make sure to practice proper hiking etiquette with your dog and bring extra bags so that you clean up after your dog!
Browse the Record Selection at Amoeba Music
Are you in the market for some new tunes? Amoeba Music is the world's largest independent record store, and the best part? They are dog-friendly! We've even heard that they keep dog treats on hand for their canine customers. Browse their massive selection of records, CDs, and DVDs that takes up an entire city block and two stories of the building with your furry friend by your side. 
Amoeba Music is located near West Hollywood on West Sunset Boulevard and is open Monday through Thursday, from 11 a.m. to 8 p.m., and Friday through Sunday, from 11 a.m. to 9 p.m.
Grab Lunch or Dinner at a Dog-Friendly Restaurant
You might think this one seems obvious, but did you know there are over 400 restaurants in Los Angeles that welcome dogs? Most of these eateries have comfortable patios where dogs are welcome to lay next to you as you grab a bite to eat or sip on a refreshing drink. Angel City Brewery, The Waffle, and Grub are just a few popular places to bring your pup. You can check out a complete list of dog-friendly restaurants, cafes, and breweries on BringFido, using the location and restaurant filters.
Take Plush Paws Products with You on Your Next Adventure
If you're looking for dog-friendly things to do, you're most likely also looking for a way to keep your furry friend riding comfortably in your car while keeping your backseat clean. That's where Plush Paws Products comes in. We create car seat covers that are easy to set up and wash, so your little buddy can go with you anywhere they are welcome without making a mess of your car.  We ship all of our products worldwide, so shop our extensive line of car seat covers today!