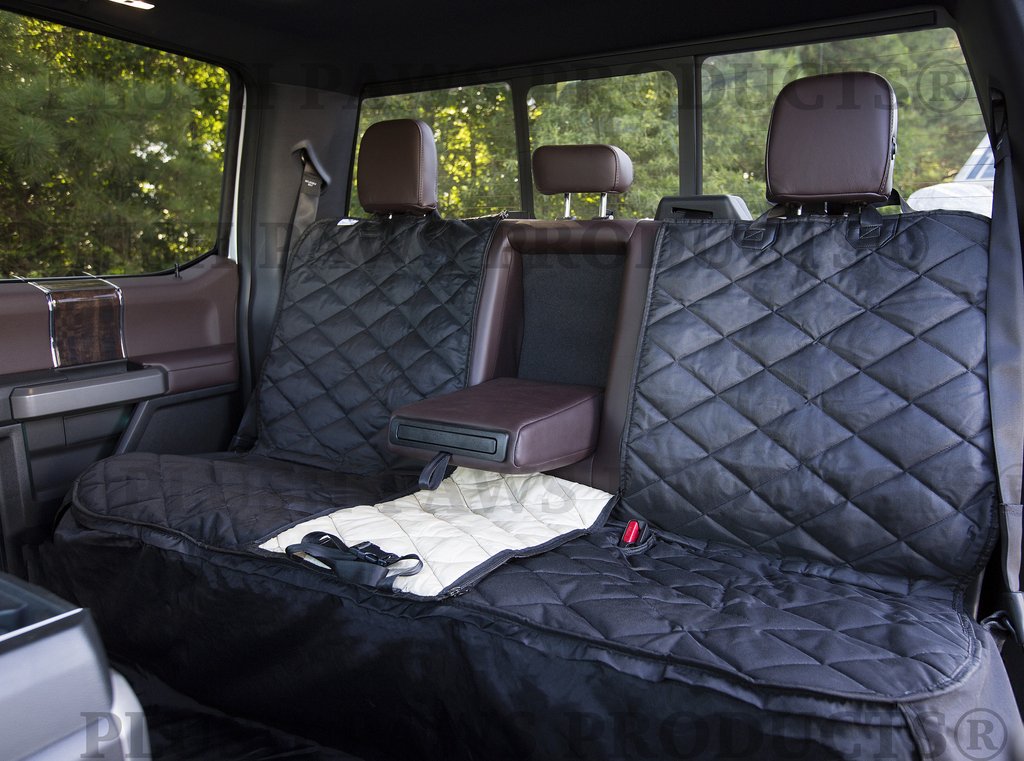 If you travel frequently with your dog, you know that you can't gt away with dog hairs, drool, or even your backseat riddled with puncture marks - of if you're lucky, you'll get it all.
Most do away with temporary solutions like a beach towel, or simply using a large plastic to cover the area. It's ugly, uncomfortable and doesn't always seem to work. What works is having a pet seat cover. Pet covers for car seats are as beautiful as they are functional.
Function of Pet Car Seat Covers
The main function of a pet seat cover is to protect your car seat from dog hair, pet dander, claw marks and water accidents that could seep underneath the seats. This is a good option if you want a high resale value for your vehicle in the future and a cheap method to preserve the brand new state of your seat.
Pet Car Seat covers are available for the front and the back of your car seat. To install one, either tie it to the seat or slip it over. Most seat covers come in elastic strap or ties to be able to fasten it securely and easily.
Pet Seat Covers Can Fit Almost Any Car
Compact cars, SUVs or Trucks it doesn't matter because car seat covers come in all sizes. So make sure to have the right seat cover size for your car. There are some attachments; however, that is designed to fit a specific car. Make sure that the seat cover is universal.
If your car or SUV is too big, Plush Paws Products have custom seat covers made just for your type of vehicle.
Price is not an Issue
A common misconception about car seat covers is that they aren't cheap. Those luxury design, quilted padding and waterproof protection do come with a price, right? No. Because the truth is they cost from $10 to $200 at most. The price is determined by the following factors:
Size
Durability
Type of Vehicle
Waterproof capability
You don't have to spend a lot on car seat cover. Plush Paws Products offer the best price without compromising on quality. Watch out for promos on
our website
as seat covers cost less than $10 on offer.
It Protects Your Car's Seat

This is the reason you would want a car seat cover. Unlike a beach towel, it enhances the overall look of your interior. Want to add luxury to your interior? Pet car seat covers come in luxury leather that isn't as expensive as fully converting your car seats to leather. It's waterproof too! Clean seats with drools and water accidents by simply removing the seat cover.

Save hundreds of dollars re-upholstering seats as if the cover gets a lot of punctures, replacing one isn't that much of a deal.
You Can Have it Custom Made
Whether it is the size or the design you are not content with in a universal pet seat cover then a custom option is for you. These covers are made specifically for your car and your specific needs.
Most custom pet seat cover are expensive, but not Plush Paws Products Custom Seat Cover. For as low as $99, this is the cheapest custom seat cover on the market today.
Pet car seat covers aren't expensive, they protect and preserve your car's seat from scratches, punctures and keep the interior clean of dog hairs. It is an essential car accessory especially if you bring your dog with you often.