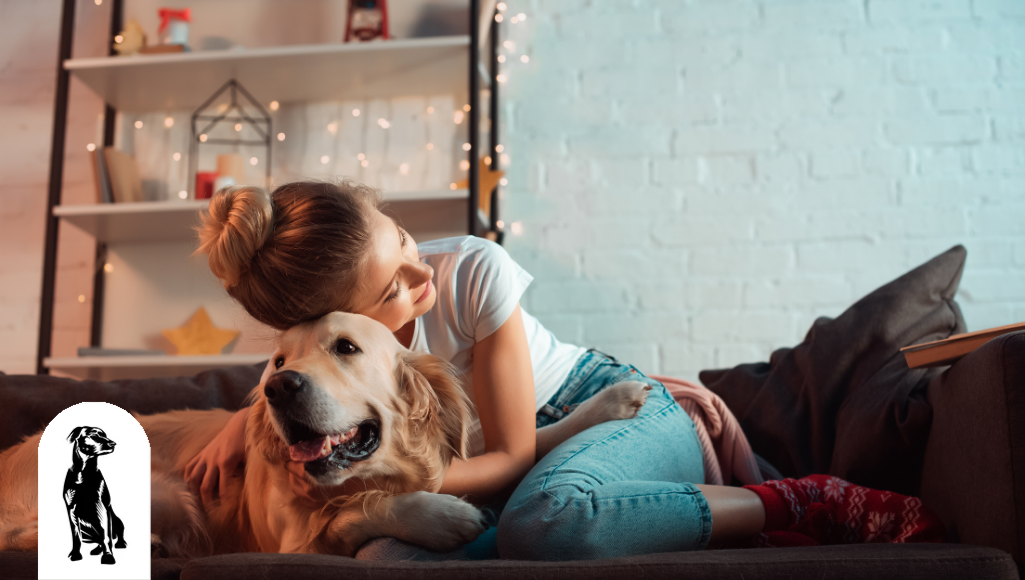 This holiday season, we hope you and your pet are safe and full of cheer. Here are some tips for keeping your dog safe during this magical season. 
With copious amounts of decorations, big family dinners, and lots of travel involved in this time of year, we want your pet to enjoy the holidays while being safe. So without further ado, here's a list of potential dangers to be aware of this year and every year after and what you can do to keep your furry friend safe. 
Christmas Tree Hazard 
The Christmas tree is the centerpiece of all your decorations. Decked out with garland, ornaments, and maybe even tinsel, putting up the Christmas tree is the first indication that the season is upon us. However, a Christmas tree can prove hazardous to dogs and many other pets. For a live Christmas tree, the pine needles can be a choking hazard if the needles make their way into the digestive tract, as well as putting your pup at risk of suffering from a puncture in the stomach lining. So if you're a live Christmas tree family, make sure to keep those pine needles picked up when they fall off the tree. 
Another potential problem with live trees is that your pup may get curious and want to drink out of the water base, which often contains fertilizers and harmful chemicals. If you still love the look and smell of a fresh-cut Christmas tree, we get it. Just make sure to keep your dog away from the water base. You may even consider putting a small puppy gate around the bottom of the Christmas tree as a protective measure.
Seasonal Plants May Be Toxic 
There are so many beautiful blooms and plants that come around during the holiday season, but beware of which ones can be harmful to your pet. According to PetMD, you want to avoid bringing these plants into your home or at least keep them away from Spot: 
Holly 

Mistletoe

Poinsettia (The plant itself is not considered toxic but is often treated with harmful pesticides)

Lilies

Daffodils 

Amaryllis
Thankfully, there are several indoor plants that thrive during the winter and are considered safe for pets. 
Christmas Cactus (be aware of the spines)

Roses 

African Violet 

Phalaenopsis orchid

Swedish Ivy 

Polka Dot Plant 

Peperomia 

Boston fern 

Bromeliad 
Holiday Food Dangers 
If there is one thing that all the holidays have in common during this time of year, food is the central part of any family gathering. And while your pup might be able to eat the occasional bit of fully cooked turkey breast, there are a lot of foods we eat during the holidays that are harmful to dogs. Some of these foods may include, but are not limited to the following:
Turkey bones, skin, and gravy 

Mashed potatoes 

Chocolate 

Raw bread dough 

Onions 

Scallions 

Garlic 

Stuffing 

Grapes and raisins 
Keeping Decorations Out of Reach 
Candles, ribbon, garland, potpourri, pinecones, and other decorative trinkets are all examples of decorations to keep out of a curious dog's reach as they can be fire and choking hazards. Many of the listed can be kept on a high shelf or counter that your dog cannot get to, so make sure to keep your furry friend in mind as you're decking the halls this Christmas. 
Be Aware Around Wrapping Paper 
Who doesn't love tearing into a wrapped present on Christmas morning? We know it's a holiday family tradition for so many, but for the sake of your pup, make sure to be proactive about picking up wrapping paper, ribbon, and bows, as all of these items may present a choking hazard. If there is any glitter associated with these items, make sure to vacuum it up as it can get stuck in your pup's paws and eyes and cause irritation.
Give Your Pet Some Space
If you're hosting Christmas parties and other festive events this year, we're sure you want your dog to feel included. However, if your dog tends to get nervous in large crowds or around new people, allow them time and space to adjust to their surroundings. If your dog is showing signs of anxiety and stress, designate a quiet and comfortable area for them to have alone time away from the party. 
Our Best Holiday Travel Tips 
When the holidays are here, you can count on plenty of traveling. Whether you're traveling to spend Christmas with your family or you're traveling to a new destination for a quiet Christmas in the woods, there's a high chance you're bringing along your dog. So many dogs love being in the car, but it's essential to bring your attention to their safety the same way you would with a human. Here are some of our favorite tips for families traveling with pets: 
Use a car seat cover or hammock to keep your car clean and free of dog hair.

Stop often to let your dog stretch, use the bathroom, and drink some water.

Never leave your dog unattended in a closed vehicle.

Don't travel with your dog in the back of an open truck; keep them in the cab with you.

Keep the car well ventilated by rolling down the windows frequently or circulating the air conditioning.

If traveling by plane, boat, train, or another form of public transportation, familiarize yourself with all the rules and regulations ahead of time.
Plush Paws Products Wishes You the Happiest of Holidays
If you're hitting the road for the holidays, make sure to keep your car clean and your pet safe with our car seat covers. Our padded seat covers keep your dog comfortable while giving you the convenience of an easy-to-install, easy-to-wash covering. You can even shop by vehicle style, so you know your seat cover fits perfectly.
We also know that if you're keeping your dog safe, you want to keep them healthy, so make sure to check out our health products too. We ship worldwide, so don't wait; shop today!