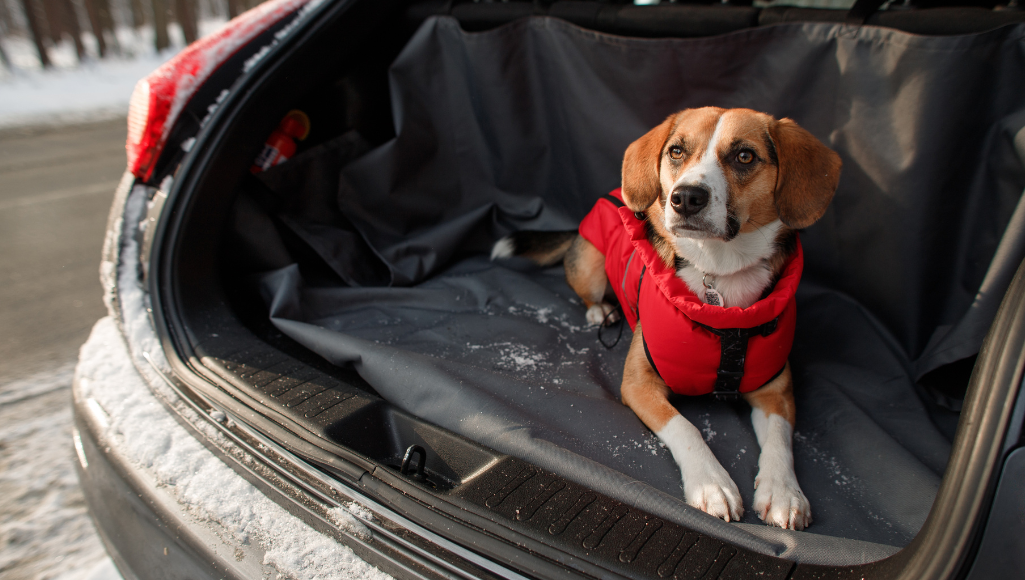 There are times when we can't imagine life without our dogs, but any seasoned dog owner knows taking care of dogs isn't all cuddles, tail wagging, and walks in the park. Nay, there are days when we feel like we've picked up more poo, scrubbed off more hair, and said more tearful goodbyes to expensive car upholstery than we signed up for. 
The best cargo liner for dogs should be comfortable, water-resistant, and made from non-porous and tear-resistant material. It should also be easy to clean and install to eliminate the need for professional cleaning services. 
Cargo liners are a valuable addition to your pet care arsenal because it decreases the burden of cleaning up the car seats and eliminating odor. They also serve to protect your car's interior from your pet's paws and claws. Read on this complete guide covering everything you need to know while picking a custom cargo liner for your pet. 
What Is a Cargo Liner?
Cargo liners provide a temporary surface over your car's interior to enable you to transport items in the back of your trunk without leaving a mess. Landscaping equipment, gardening tools, Christmas trees, and extreme sports equipment can leave permanent stains and scratches on your car's interior, which is costly to restore. A dog cargo liner follows the same concept. 
A dog cargo liner is a mat custom-fitted to your vehicle's make to protect from spills, stains, shedding, and scratches. They're designed to go over the contours of your cargo area without any hassle. 
Cargo liners for dogs have been improved from utility cargo liners to make pet transport safer and more comfortable. They have customized functionalities for your dog's specific needs and help you pet-proof your car. 
Why You Should Get Your Dog a Cargo Liner
If you feel like you've managed fine without a cargo liner so far, good for you. Your dog must be one of the poster, salt-of-the-earth types that keep their mess minimal. But before you write off cargo liners, hear us out. Here are some reasons to consider getting a dog cargo liner anyway:
Cargo liners will make your life easier. Sometimes, despite your best efforts, there are still hairs that cling stubbornly to the upholstery, and some odors linger long after your pet has vacated the car. Not to mention any damage caused by scratching or clawing. 

Cargo liners provide a temporary layer of protection over your car's interior from dog poop, pee, saliva, vomit, and shedded fur. The cargo liner is quickly taken out of the vehicle for cleaning, leaving your car seats clean and intact.

It offers an extra level of comfort for your dog, as the liner can prevent slipping while the car is in motion. Aging dogs are generally sensitive to bumps in the road; cushioned cargo liners are easy on your dog's joints. 

Cargo liners for dogs can also double as cargo liners for children. The material is both safe and gentle enough for your young child. With a single purchase, you can hit two birds with one stone—travel stress-free with the assurance of your cargo liner keeping your car interior clean and comfortable.

Dog cargo liners create more space in your car, using the foldable back seat configuration integrated into most SUVs. When laid over the cargo area and the folded rear seat, the cargo liner creates a seamless space for your pet, enabling it to stretch out and move around comfortably.  

Aside from the conveniences of owning a dog cargo liner, they also preserve your car's resale value by keeping it looking new. You need to restore a damaged car before putting it on the market. Otherwise, its value could be significantly lower than you would hope for. A quality cargo liner is a worthwhile investment. 
Perhaps this will convince you that cargo liners are essential for dog owners. The damage to the interior of your car due to stains, shedding, and scratching could cost you an arm and a leg to fix. 
The estimated cost of having your car reupholstered is around $1000. And that's the minimum. Depending on the material and the upholsterer you will be choosing to work with, the maximum could reach thousands of dollars. 
Factors Affecting the Choice of Cargo Liner for Your Dog
Different dog breeds have temperaments unique to their breed. The same is true regarding their ability to learn and general trainability. Dog owners face varying levels of difficulty when it comes to the care of their dogs. These, along with the distinct physical features of your dog, should be factored in when looking for cargo liners best suited for your pet. 
Your Dog's Coat
Dogs with long hair naturally leave hair wherever they go. No matter what promises the doggy shampoo or other hair care products make, shedding is an inevitable part of your dog's life cycle. Some dogs shed all year round, while some shed seasonally.
Some breeds shed more than others. Breeds with double coats such as the Labrador Retriever and Siberian Husky are known for their excessive shedding. The best cargo liner for your long-haired dog is made from a non-porous material. Any hair your dog sheds will be easy to clean off because hair doesn't stick to the liners made of non-porous material.
Here are some breeds that tend to shed a lot: 
Great Pyrenes

Alaskan Malamute

German Shepherd

Siberian Husky

Labrador Retriever

Akita

Chow Chow

Golden Retriever
Your Dog's Potty Training
Some dogs, regardless of breed, become car sick, making trips to the vet or anywhere quite the ordeal for you and your pet. Some dogs that are more difficult to potty train present another problem during travel. 
Even well-trained dogs can still lose control of their bladders when they're feeling stressed or anxious. Waterproof cargo liners are the best fit for these dog breeds. This feature will spare you the headache of removing stubborn odors.  
Plush Paws' premium-quality cargo liners are made with 600D PU Infused Oxford fabric, breathable and non-porous. It makes for excellent waterproofing and prevents fur from sticking to it. 
Your Dog's Temperament
There are also very excitable dog breeds that can barely contain their enthusiasm about going for car rides. This excitement is often expressed by pawing, scratching, and other forms of playful behavior that might be a joy to watch until the claws leave their mark on the upholstery. 
Car rides have the opposite effect on some stressed and anxious dogs about travel. This anxiety can be exhibited similarly to excitement, with pawing, scratching, and chewing. For these types of dogs, durable, tear-resistant material is recommended.
Your Dog's Trainability
Some dogs seem to have trouble picking up tricks and learning new behavior. You can expect these dogs to leave a mess in your home and your car until they can be fully trained. It's wise always to have a cargo liner or car seat cover to protect your car's interior from bladder accidents or other costly damages. 
Below are dog breeds that are harder to train than others:
Jack Russel Terrier

Lakeland Terrier

Lhasa Apso

Lowchen

Norfolk Terrier

Pekingese

Pomeranian

Pug

Shih Tzu
Age and Other Health Conditions
When choosing a dog cargo liner, your dog's age and health condition are also something to consider. Senior dogs may have orthopedic problems or musculoskeletal conditions that might cause stress and discomfort during travel. Other health conditions or injuries can also make car rides traumatic for your pets. 
The best cargo liner for a sick dog is, among other things, built for comfort. Some cargo liners are quilted or cushioned. The stability of silicone-backed cargo liners also prevents slipping that may cause your dog to strain when there is excessive movement.
Plush Paws' cargo liners have non-slip silicone backing and heavy-duty headrest straps with side-release buckles for added convenience to prevent any excessive movement that could lead to safety concerns for your traveling pet.
Very young dogs are the perfect reason to get a cargo liner. In the early stages of their development, accidents are bound to happen because they have less bladder control and perhaps aren't fully potty trained. Young dogs can also be quite destructive as they love to play, bite, scratch, and chew on anything they can sink their teeth into. 
What To Look For in a Dog Cargo Liner
Look out for certain features of cargo liners that indicate quality and durability. The market is saturated with different brands selling cargo liners, but not all will give you value for your money. Below are some of the features to look out for:
Chemical-Free Assurance
Here at Plush Paws, we take pride in our line of environmentally friendly cargo liners. PVC-depleting substances aren't included in the manufacturing process. Metals such as mercury, cadmium, arsenic, and lead or heavy azo dyes are never used to guarantee the safety of your pet and family.
Versatile Fit
The fit of the cargo liners can mean the difference between a mediocre product and a great one. It can also mean the difference between a stress-free travel experience for you and your dog and one that's full of fuss over an ill-fitted cargo liner. 
Plush Paws' cargo liners come in 3 sizes perfectly designed to fit into your SUV, whether your vehicle is compact, medium, standard, or large. There are also custom fits for different makes of cars, such as:
Sedans

Hatchbacks

Trucks

Convertibles

Coupes

Minivans 

Wagons
A feature that enables the Plush Paws' cargo liner's versatile fit is the removable recessed headrest straps and YKK zippers that allow for an adjustable length. 
Superior Quality
A good cargo liner should withstand the pawing and scratching of a spirited pet. Plush Paws' cargo liners are durable, tear-resistant, and long-lasting and come with a lifetime warranty that testaments the company's confidence in the quality of its product.
Comfort
Your dog's comfort during travel can significantly enrich your shared travel experiences. A comfortable dog doesn't fuss, and that goes a long way in keeping you in a good mood while on the road. 
Plush Paws' PU-infused Class A 600D cotton-polyester Oxford blend provides a soft, comfortable texture that adds a touch of luxury that you'll also find soothing if you ever decide to stretch out with your dog at the back of the car. This feature makes it ideal for young kids as well. 
Safety Features
Safety should never be compromised for the sake of comfort. Dog seat covers and cargo liners shouldn't obstruct access to seat belts or seat belt buckles. You should always follow state laws that require your dog to be restrained during short-distance or long-distance travel. Choose a car seat cover or cargo liner that enables this access to your car's built-in safety features. 
During travel, some acceptable restraint options for dogs are dog crates, seat belt harnesses, and dog guards. The seat belt harness is the preferred choice if you have enough room in your car. To set this up, you will need to:
Connect the dog's seat belt harness loop to your vehicle's seat belt.

Attach the harness to the seat belt clasp.

Make adjustments for comfort.
Easy Installation
Whatever your vehicle's seating configuration, Plush Paws cargo liners' YKK zippers ensure optimum versatility for the perfect fit. The cargo liner easily attaches to the front or rear bench seats. Strategic zipper integration allows a 40/20/40, 40/60, and 60/40 configuration option. The upper portion may be unzipped if full length isn't needed. 
The 20 inch (50.8 cm) bumper flap ensures no damage is done when loading or unloading. The flap protects your bumper from scratches.
To install your Plush Paws cargo liner, all you have to do is strap the liner around the desired headrest, configure YKK zippers to achieve the desired length, straighten out, et voila, your car is poo, pee, shedding, and stink-proof.
Easy To Clean
Cleaning up after your pet doesn't have to be a tedious chore with Plush Paws' cargo liners because the liners themselves are easy to clean and maintain, making it ideal for the busy dog owner. Their breathable but non-porous material makes it resistant to stains and doesn't absorb odors. All you need is some doggy wipes and sanitizing sprays to disinfect the surface. 
Quick Travel Tips for Your Dog
This is an excellent time to bring up the dos and don'ts of traveling when you have your dog in your car. Safety is always the first consideration when traveling with your dog, and the safety features of cargo liners don't apply to all circumstances. 
Here are a few tips to make your life easier:
If you're taking a trip out of town, prepare your dog for the experience by taking him on short car rides to get him used to the ride. This will reduce car ride-related anxiety and the chances of your dog getting car sick. 

Determine ahead of time where your dog will sit. Some large dogs can fit in the back seat. However, if you have an exuberant dog who constantly seeks attention, it's safer to put them in the cargo space where they won't be a distraction to you while you're driving.

Follow state laws regarding restraining your dog. The common restraint options are:
Dog Crate

Seatbelt Harness

Dog Guard
Your dog should have some experience with any of the above options before taking them on a long trip, as putting on the restraints for the first time on the day of the trip is most likely to cause anxious behavior.
Even with a cargo liner or car seat cover,

make frequent stops

to give your dog the chance to go potty. Car rides that are longer than your dog is used to can cause anxiety and car sickness, which leads to big messes.

Pack your dog's necessities in a bag and place it somewhere that is easily accessible in your car. Some of these travel must-haves for your dog are:
Food

Water

Medicine

Health records (this should always be on hand in case of emergencies)

Toiletries such as shampoos and his usual pet care products

Doggy wipes

Waste bags

Flint rollers

Favorite toys

Usual feeding utensils (some dogs are very picky about where you serve their meals)

Beddings
When planning your trip, find out if there are pet stores or a veterinary clinic where you are going. You may find yourself in need of supplies for your dog if you forget to pack something or an unforeseen need arises. You can enter the clinic's number beforehand in case of emergencies. 
It's a good idea to take your dog on a long walk or have some playtime with it before taking off on the road. By doing this, you'll have let your dog spend any pent-up energy, and it will be less likely to be restless during the trip. 
Here are some things that you should avoid doing:
A cargo liner is ideal for short trips to the vet or a quick ride around town, but a cargo liner is never a substitute for a car seat, dog seat belt, or crate when traveling your dog longer distances. 

Make sure that your car seat cover doesn't obstruct access to seat buckles if your child or any other passenger is sitting at the back with your dog. Seat belt use is non-negotiable and should always take precedence over the conveniences provided by cargo liners and seat covers.

The bumper flap feature should be disabled when the car is in motion. The flap should be folded and placed inside the vehicle while in transit. The bumper flap is only used for loading and unloading when the car is safely parked. 

Do not put your dog in the back with unsecured luggage, as moving luggage can cause accidents and injury.

Even with a great cargo liner or car seat cover, you should avoid feeding your dog right before a trip and limit the number of treats while on the road.
Cleaning and Maintenance of Cargo Liners for Dogs
Cleaning cargo liners should be relatively hassle-free and cost-effective. You haven't bought a good one if you have to get specialty cleaning done for your cargo liner. You can make your cargo liner as good as new with these tips:
Small messes.

For small messes, like some spittle, a little puke, and dog dander, you only need to wipe, vacuum, and use a lint roller to spot clean and make your cargo liner as good as new. Water-resistant cargo liners will wick away liquid spills to prevent mold and the absorption of pet odors.

Big messes.

For bigger messes, such as pee, poop, or large spills, pop your cargo liner in the washing machine and set it at low rise, then air dry and store away until the next car trip with your dog. 
If any damage is incurred during washing after following the product's instructions, you may claim your warranty if guaranteed by the brand of your cargo liner. Reach out to customer support to learn more about the company's policies on returns and refunds or warranty claims. 
Here are a few quick tips to help you make sure you don't void the warranty:
Follow the care instructions in the product's manual.

Don't lend out your cargo liner to avoid misuse.

Don't use corrosive cleaning agents to disinfect your cargo liner.

Properly clean and store after use.
Final Thoughts
Plush Paws was built for dog lovers and their dogs by kindred dog lovers, dedicated to giving you the best value for your money with premium products geared towards optimizing the quality of life for your pet to help you make the most of your time together. 
Plush Paws products are made in the USA. Lifetime warranties are offered for pet travel accessories. With overwhelmingly positive reviews on PlushPawsProducts.com, your security and satisfaction are assured when you make your purchase. 
Sources