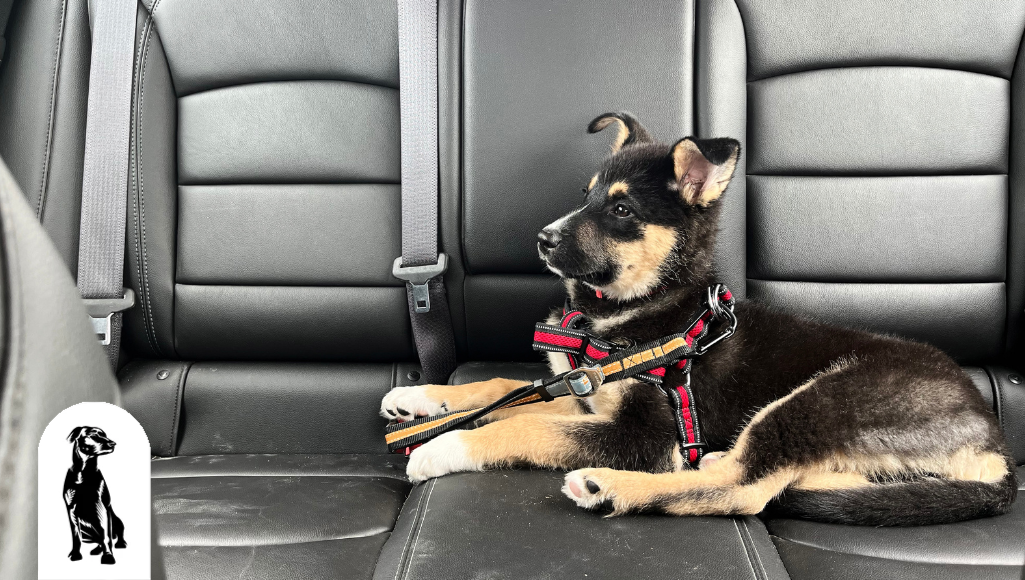 Just like you would with a child, it's vital to ensure the comfort and safety of your dog when planning anything from a short trip to a long journey. This is because dogs are quickly excited, making it challenging to keep them relaxed and quiet. So, how can you make the backseat comfortable enough to keep your dog calm while you drive?
Here are nine ways to make the backseat more comfortable for a dog:
Get a comfortable rear seat cover/protector
Add pillows or cushions for your dog to sit on
Buy a dog seatbelt or harness to minimize motion
Minimize factors that cause motion sickness
Purchase a dog carrier to secure your dog
Add a blanket or towel
Fill in the space between the front seat and backseat
Minimize access to the front of the car
Condition your dog to love the car
This article will cover a few key ways to keep your dog comfortable on a trip, be it short or long. From seat protectors to seatbelts, there's a lot to cover. So, let's get to it!
1. Get a Comfortable Rear Seat Cover/Protector
One of the risks of traveling with a dog is that it may damage your backseat by scratching. In addition, it can ruin upholstery with its dirty paws.
That may not sound uncomfortable for your dog, but it will be for you, leading to tension and possibly even harsh words. Any anger you feel towards your dog for ruining the seats will, in turn, make them uncomfortable and perhaps fearful.
That may lead to even more issues. 
Luckily, there are a variety of seat covers available on the market that will protect your seat and optimize comfort.
These seat covers are designed with your dog's comfort in mind, with many offerings designed to fit perfectly in different car types. Below you'll find a few of our favorite options here at Plush Paws.
Made from 600D PU-infused Oxford fabric, this seat cover is non-porous, waterproof, and breathable. That means it should protect your backseat against urine or other fluids while allowing for ample air circulation. 
This seat protector also features:
Non-slip silicone backing

Plastic seat anchors

Headrest straps to ensure it stays firmly in place for added pet security.
This option comes in four sizes - small, regular, large, and extra-large - to fit perfectly in most cars, whether you drive an SUV, truck, or sedan. In addition, the heavy-duty material withstands wear and tear, providing a solution that will serve you for years to come.
Boasting a cotton-polyester material infused with PU materials, this seat protector delivers a luxurious appeal to keep your dog as comfortable as possible during your drive. 
This is an excellent option to protect your back seat while keeping your dog comfortable. 
This convertible rear seat cover is made from 600D PU infused fabric, providing a soft, plush feel for added comfort. 
It comes in two sizes: 
Regular

- 56-inches wide and 65 inches long (142.24 cm x 165.1 cm). 

Extra-large

- 63 inches wide and 68 inches long (160.02 cm x 172.72 cm). 
Non-porous and waterproof, this seat cover protects your backseat against splashes or water damage, meaning you can focus on the road without worrying about your dog's pee stains on the seats. 
Arriving with plastic seat anchors and featuring a non-slip silicone backing, this seat cover stays firmly in place to prevent slipping.
With this seat cover, durability is not an issue. The Class A cotton-polyester and PU material blend durability with luxurious texture. Plus, the integrated side straps offer all-around protection to prevent staining. 
Better still, it features an optional hammock that detaches easily for quick, convenient storage.  
This waterproof rear seat cover is made from cotton and high-quality velvet to deliver a touch of upscale style while keeping light splashes and stains at bay. The breathable fabric ensures proper air circulation to prevent discomfort. 
Integrated grounding seat anchors, heavy-duty headrest straps, and a non-slip silicone surface prevent uncomfortable movement on your back seat, eliminating the risk of slippage. 
The handy side release buckles make it easy to remove after your commute for safe, convenient storage, and an optional hammock offers added versatility. 
Boasting diamond stitching, this seat cover gives your backseat an attractive look, and the heavy-duty material provides enduring quality, resisting everyday wear and tear without compromising the plush outlook. 
This seat cover comes in two sizes: 
Regular

- 56-inches wide and 65 inches long (142.24 cm x 165.1 cm).

Extra-large

- 63 inches wide and 68 inches long (160.02 cm x 172.72 cm).
These two options let you select the ideal fit for your car, and both include side flaps for extended seat coverage. 
This seat cover is ideal for the rear bench of most standard cars and SUVs. 
It fits perfectly, whether your vehicle has headrests or not, and comes in one size, measuring 55 inches (139.7 cm) in width and 26 inches (66.04 cm) in length.
The integrated side flaps measure 9 inches (22.86 cm) by 18 inches (45.72 cm) for ample coverage. 
This seat cover is made from 600D PU-infused fabric for durability, which is very breathable. It keeps your dog cool and is also waterproof, adding further protection against urine stains should your dog pee in your car. 
Which Seat Cover Is Right For You?
These products are easy to install in your car and arrive with the necessary accessories for a seamless fit. Built from high-quality, waterproof, and tear-resistant materials, any good quality cover should provide lasting service. 
However, if you have an active dog that tends to move around a lot, you'll want to opt for something that's extra secure and covers the top part of the seat too.
However, a simple bench cover should do the trick for smaller, calmer dogs.
I recommend getting one or more of these products to not only ensure that your dog is comfortable on your backseat but also to protect your backseat from tearing and staining. It will also be handy to have the extra coverage should your dog find its way into some dirty water.
2. Add Pillows or Cushions for Your Dog To Sit On
Adding a pillow or cushion to your car's backseat is another way to make it comfortable for your dog. These will provide a soft place where your dog can sit and help absorb shocks from impacts and bumps on the road. 
You can even make use of your dog's favorite cushions or pillows, making your backseat feel homely and familiar. 
Bringing your dog's favorite pillow or dog bed on your travels is something you should consider to ensure that your dog stays comfortable throughout the journey. Alternatively, putting an old T-shirt in the back should also help soothe them.
3. Buy a Dog Seatbelt or Harness To Minimize Motion
While on the road, wearing a seat belt is essential to keeping everyone safe - including your dog. In an accident, it will keep them secure in place.
It also minimizes movement, particularly during a bumpy ride. You wouldn't be comfortable being thrown around from side to side during a trip, and it is safe to assume that dog won't either. 
Not only that, but it's pretty common for dogs to feel motion sickness, which will only be made worse if they're not secure.
This is why you need a seat belt or harness for your dog. 
A seat belt or harness should be something you can easily attach to your car's straps. It should hold your dog securely in place but allow for some movement. 
Unfortunately, car interiors are not as accommodating for animals as humans. So, getting a harness keeps your dog secure and is also a way of protecting yourself. After all, driving around with an unrestrained dog is not only distracting but dangerous. 
There is a wide variety of harnesses that you can buy to enhance your dog's safety. You can even play around with different colors to give your backseat and uplift or showcase your creative flair. 
Either way, look for something strong and durable. 
4. Minimize Factors That Cause Motion Sickness
As mentioned, motion sickness can afflict dogs just as easily as humans. It's especially common for dogs as they grow older. 
So, as well as securing them with a harness to prevent too much movement, it's also essential to take steps to ensure they don't get sick while in the car.
Below are a few actions that you can take to minimize these factors.
Maintain a Cool Internal Temperature 
Like you, your dog is sensitive to your car's internal temperature - temperatures that are too low, as well as those that are too high. 
Generally speaking, if you feel warm in the car, your dog feels it even more. On very hot days, it's advised to have the air conditioning running or drive with the windows down to help circulate the air.
Opening your window is a sure way of guaranteeing that your car's internal temperature is optimal. It also provides an opportunity for your dog to stick its head out if it feels too hot during the trip. Just be sure your dog is secured in place for added safety.
Similarly, a cold car may be very uncomfortable for smaller breeds and dogs without thick, double coats, like Golden Retrievers. In that case, you should make sure to have the heat running.
If you're unsure of the ideal temperature for your dog, I suggest consulting your veterinarian or other dog experts. This will be invaluable when it comes to keeping your dog at ease during long commutes. 
Limit Food and Water Intake Before the Journey
After a heavy meal or plenty of water, your dog will undoubtedly need to use the bathroom. Though each dog is different, you shouldn't make them wait too long to eliminate as this can cause discomfort. 
Therefore, when planning to take your dog on a long trip, take necessary precautions to keep its food and fluid intake to a minimum to minimize this discomfort. 
Alternatively, be sure to make frequent stops to allow for potty breaks.
Talk to Your Vet About Medications That Limit Motion Sickness
If you have a particularly anxious or sickly pup, it's usually best to limit their time in the car. But when that's not an option, it's possible to get medication to help them be more comfortable. 
Talk to a certified practitioner about these, and get the best option for your dog. 
Another option is to try using dog pheromones in the car.
There are a variety of sprays, diffusers, and collars that can help relax your dog. They can help emulate a relaxing and comfortable environment for your dog, keeping it in high moods during your trip.
Walk Your Dog Before the Trip To Alleviate Stress
A general lack of adequate physical exercise could mean that your dog will have too much energy in the car, making them excitable and unlikely to stay calm.
To keep this to a minimum, I recommend exercising your dog before the trip. This will not only help to keep your dog settled but is also a known approach to alleviating stress.
5. Purchase a Dog Carrier To Secure Your Dog
Another option available for enhancing your car's back seat's comfort level for your dog is to get a dog carrier or a crate. 
According to Petmd.com, such a crate or carrier improves safety when driving or transporting large dogs in your car. A large chest or cradle is recommended to allow your dog to stand up and move around. 
Per Pewtrusts.org, an unharnessed dog can turn into a dangerous projectile if you are moving at high speeds on the highway. It is therefore essential to keep it secure. 
The size of the carrier and the types of the harness will largely depend on the dog's size. There are several styles of dog carriers, as described below.  
Hard-Sided Dog Carriers
These are also referred to as travel dog kennels, and they're typically preferred during long-distance travel. According to Petmd.com, while these can work for any-sized canine, they are ideally used when transporting large or medium-sized dogs that are too big for regular carriers. 
These carriers tend to have a sturdy build to withstand heavy chewing and canines that will try to escape. 
Place a sleeping towel, cushions, or pillows inside the cage for added padding that will make your dog even more comfortable. 
Soft-Sided Dog Carriers
Soft-sided carriers are ideal for small or medium-sized dogs, especially those that are considered good travelers. Like hard-sided dog carriers, you can harness these to the backseat of your car to give your dog a better traveling experience.
Introduce a warm towel, cushions, or pillows to provide a comfortable surface for your canine traveling companion. 
6. Add a Blanket or Towel
One of the benefits of Plush Paw seat covers is that they are padded with either cotton fillings or infused with PU materials, which provides a comfortable surface to sleep or sit on. 
But what alternatives are there if you do not have a seat cover? 
One of the most straightforward options would be to use a simple blanket or towel as it's not unusual for a dog to feel uncomfortable if it has to sit directly on the seat. 
Therefore, laying a towel or blanket on top of your back seat is the smart way to go when you are going for longer distances. These will also keep your dog warm during your commute. 
Blankets and dog blankets also come in handy when you want to reinforce your Plush Paws seat covers. While this is not always necessary, you can add these items on top of your rear seat cover, mainly if you are on a bumpy road. 
7. Fill In the Space Between the Front Seat and Backseat
The space between the front and back seat is dangerous for dogs, primarily when it is not secured. For example, your dog can easily slip and get injured if you have to stop suddenly. 
Therefore, it is essential to bridge this space to optimize safety and comfort. 
You can solve this problem by covering the space properly and creating a safety net should your dog fall. 
However, if you already have one of the Plush Paws seat covers, you don't need to make any other purchase to bridge this space. 
This car seat protector is an excellent solution to bridge the space between the front and rear seats. It integrates easily into your car with velcro openings, protective side flaps, and an elastic skirt. 
It can also be easily strapped around the front seats' headrests. 
In this way, it acts like a hammock, protecting your dog from the floor space in between the seats while keeping it all nice and comfy. 
This seat cover has a detachable hammock, which will secure your dog from the floor space between the front and rear seats without sacrificing comfort. 
It can also be easily strapped around the headrests on the front, cradling your dog and protecting it from excessive motion. 
8. Minimize Access to the Front of the Car
What should you do if your dog wants to get close to you in the driver's seat? 
As a dog owner myself, I often find that my dogs want to be up front with me when I am driving. Unfortunately, this is a significant risk, and you want to ensure that your dog stays in the back.
If you have an anxious pup who forces its way up front (up and over the seat covers mentioned above), you'll want to invest in a net or a pet barrier to prevent access to the front. 
This type of net should cover the whole area, leaving no room for your dog to slip through. That should allow you to focus more on the road and not on your dog and give you peace of mind, knowing that your dog or pup stays in the back.
But what if your dog is overly anxious? In that case, the net may not be enough. If the dog is stressed, it'll likely bark, cry, and attempt to force its way up to you. If that sounds familiar, you'll want to try to condition your dog to love the car before taking any long trips. 
9. Condition Your Dog to Love Your Car
If you've ever taken your dog to a dog park, you'll know they will get very excited when they get close. This is because they've been conditioned to associate the dog park with fun and freedom. 
The same can be said for certain shops or people who often give them treats. After enough meetings, they'll connect that person or place with food and, in turn, become excited.
Conditioning your dog to love the car is similar and the best way to guarantee their safety and comfort on trips. Of course, this will be far easier with puppies, but even old dogs can learn new tricks if you put in enough time.
The American Kennel Club describes two processes to help with this: 
Desensitization

: This is a gradual process, where you slowly

acclimate

your dog to your car.

Counter-conditioning:

This is a process where you can change your dog's emotional response to traveling from a bad reaction to a desirable one.
Your preferred approach will likely depend on how your dog reacts to traveling. Whatever method you take, remember this is a gradual process. If you rush it, you may only make the stress worse.
One option would be to figure out where your dog is most comfortable, such as on its bed, then slowly move the bed closer to where you want your dog to be. 
Another option would be to use treats and affection to encourage your dog. Here's how:
Bring your dog near the car and give it lots of treats and love. 

Slowly move closer, not forcing anything but encouraging and feeding treats as you move. 

Open the car and throw high-value treats inside. 

Don't close the door if the dog goes in; just let them go in and out as they please. 

Keep feeding high-value treats whenever they go inside. 
This may take some time, but eventually, they'll associate the car with those treats. 
Note: high-value treats should be something they don't usually get. Cooked chicken or freeze-dried meat should work very well.
You can also use toys if your dog isn't food-oriented. Either way, your goal is to trick your dog into associating getting into the car with fun. 
The general idea is to add a reward for each step. Once they're comfortable in and around the car, you'll want to follow the same slow steps to help be comfortable in a harness and behind a net (if that's something you need).
If you do this correctly, your dog should stay relaxed and even become eager to get into the car during the next trip.
Conclusion
It's normal for a dog to become excited in the car, sticking its head out the windows and moving from side to side to see the sights. However, it's also quite common for dogs to feel anxious and nervous on long drives. 
You'll want to make the back seat as comfortable as possible with that in mind. 
Luckily, products like those from Plush Paws can help. Not only are the seat covers plush and soft, but they're durable and dog-proof. Browse our selection today!
Sources