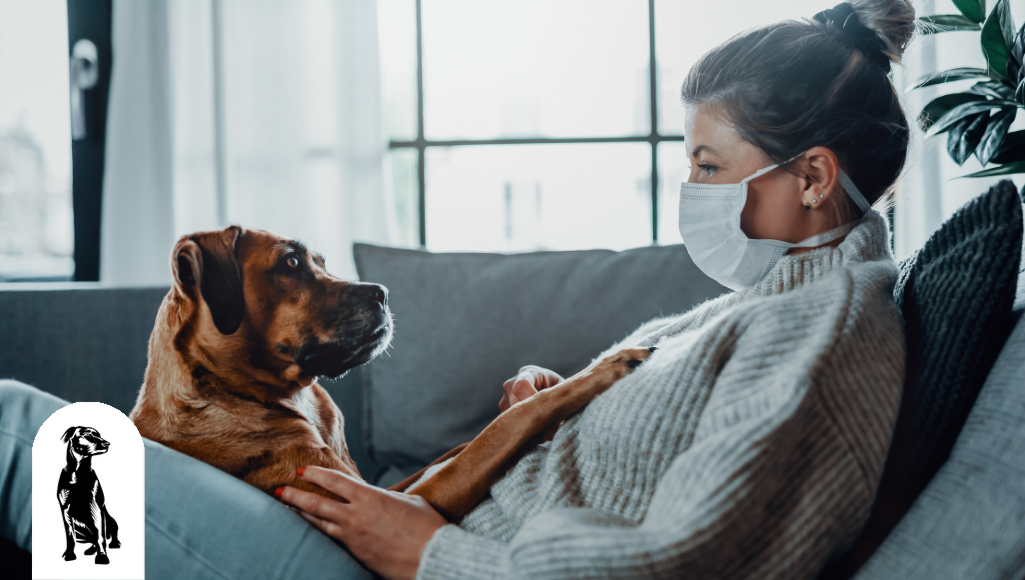 With COVID-19 not going away anytime soon, many dog owners are wondering about the relationship between dogs and Coronavirus. 
Can our four-legged friends catch this virus? Sadly, the answer is yes—but it isn't a significant threat to them compared to humans. Luckily, cases of COVID-19 in dogs are far and few between, but that doesn't mean we should let our guards down. The more knowledge we're equipped with, the sooner we can overcome this pandemic and start going outside more with our dogs. 
In today's blog, we'll be discussing the effects of COVID-19 in dogs and what you can do to keep them healthy. 
Quick COVID-19 Facts and How It Impacts Your Dog
According to the Centers for Disease Control and Prevention, here's what we know so far about how this virus can affect your pup: 
A small percentage of dogs and cats have been found to have COVID-19 after close contact with humans who contracted the virus. 

Although we only have limited information, the risk of animals spreading COVID-19 to humans is considered low. 

In some instances, the virus responsible for COVID-19 can spread from people to animals, but it's rare. 

It's essential to treat pets as you would other human family members and limit the amount of times they interact with people outside of your home. Of course, it's important to continue socializing your dog, but use your best judgment. If anyone in your house is sick, it's best to stay indoors. 

Remember, information on COVID-19 is rapidly evolving, so you should keep up to date with the latest news. 
Fortunately, in challenging times like these, man's best friend is always here for us to ensure that we're doing fine mentally and emotionally. Here are some of the most frequently asked questions about dogs and Coronavirus, based on information provided by the CDC. 
Question: Can humans get COVID-19 from their pets?
Answer: Based on limited information, the chances of animals spreading COVID-19 to humans is considered low. However, it's important to remember that animals can spread other diseases to people, so it's recommended to continue practicing healthy habits, such as washing your hands and staying on top of personal hygiene. 
Question: Will my dog carry the virus that causes COVID-19 on their skin or fur? 
Answer: Some types of bacteria can be carried on hair and fur, but there isn't any evidence that viruses, including the one responsible for COVID-19, can spread to humans from the skin, fur, or hair of pets. At the same time, since animals can sometimes carry other germs that can make other people sick, it's best to enforce healthy habits around your pets and other animals, including washing your hands before and after petting them. 
Question: Is it safe to use hand sanitizer on my dog?
Answer: No. Never wipe or bathe your pets using chemical disinfectants, such as alcohol, hydrogen peroxide, or other similar products, like hand sanitizer, wipes to clean counters, among other industrial or surface cleaners. However, if you have other questions regarding the appropriate products for bathing and cleaning your pup, we recommend consulting with your veterinarian. If your pet gets hand sanitizer on their fur or skin, rinse your pet using water immediately. If your pet accidentally consumes hand sanitizer, even by simply biting a bottle of it, contact your local Animal Poison Control immediately. 
Question: Can I take my dog to the dog park during a pandemic?
Answer: The answer to this question depends on the state you live in. Some states have reopened dog parks, but you should still follow safety protocols. Your fur baby needs fresh air and exercise to stay happy and healthy, so if you choose to go to a dog park, follow local guidelines. Reduce the risk of contracting COVID-19 at parks by doing the following:
Refrain from taking your dog to the park if you're feeling ill or have recently been in contact with someone who has COVID-19. 

Don't take your dog to the park if they're sick. Signs of

dog sickness

include coughing, fever, shortness of breath, sneezing, lethargy, discharge from their eyes and nose, vomiting, or diarrhea. 

Try your best not to touch common dog park items, such as shared water bowls. It's best if you bring a portable water bowl to the park as a matter of safety and convenience. However, if your dog does have to use a communal water bowl, remember to wash your hands or put on hand sanitizer afterward. 

Limit the number of dog toys you bring to the park. Clean and disinfect anything you took to the park that you're taking back home, such as leashes, water bowls, and dog toys.
Question: Is it safe to take my dog to a daycare center or groomer?
Answer: Some states are allowing groomers and boarding facilities, such as dog daycares, to safely reopen. If you need to take your pet to a groomer or daycare center, follow the rules put in place by the facility, which may include mask-wearing and social distancing. Limit the items you bring into the grooming salon or boarding facility, and remember to disinfect any items you do take once you get home. 
Don't put a mask on your pet, and don't take them to a groomer or daycare center if they're showing signs of sickness. 
Question: How can I ensure my dog always stays healthy?
Answer: Although we're still learning about the effects of COVID-19 on household pets, your dog's overall health and safety should be one of your highest priorities. After all, your dog's immune system serves as a barrier to protect them from dangerous illnesses. With a strong immune system, your pup will have a reduced risk of developing a bacterial or viral infection, repelling parasites, and combatting other serious diseases. 
Furthermore, maintaining a healthy immune system can reduce the risk of chronic inflammation. Even though some inflammation can indicate a well-functioning immune system, frequent inflammation can put your dog at risk for a variety of preventable diseases, such as diabetes. Dogs that take multivitamins can enjoy healthy immune function, improved digestive health, and reduce allergic responses. 
Plush Paws Products Cares About Your Dog's Health
Although we're still learning about dogs and Coronavirus, there are some factors we can control to ensure that our best friends stay healthy. Plush Paws Products offers complete, daily multivitamins made especially for dogs. Our multivitamins are perfect for small and big dogs alike. They come in the form of chewable treats that are packed with vitamins, minerals, and nutrients to promote healthy skin and coat, joints, heart, and digestive immune function. Check out the rest of our premium selection of dog-friendly products to keep your best friend happy and spoiled!