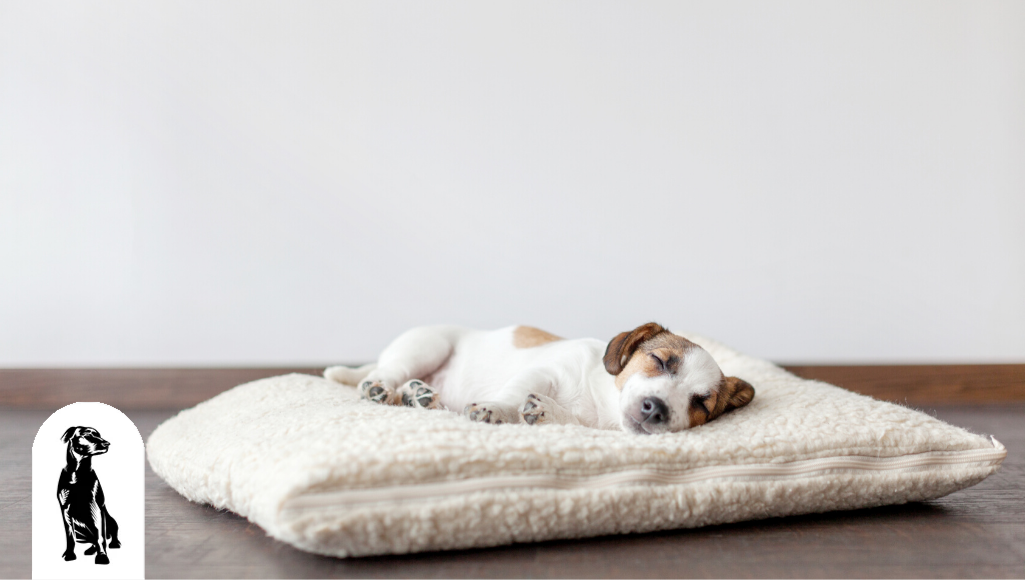 Have you ever wondered if where your dog sleeps can affect the quality of their sleep? Dogs can indeed sleep anywhere, so can humans, if they had to; however, may not be getting the best sleep for rest and rejuvenation. The same goes for your fur baby.
Continue reading in today's blog, as we discuss the best dog beds for the ultimate quality sleep.
Origin of Dog Beds
It's only been 64 years since the first dog bed was invented and patented by Eugene Kruck of Huntington Station, N.Y. Although there was animal "furniture" earlier than that, it wasn't until 1954, when Kruck invented the first dog bed intending to provide an improved dwelling for dogs. Kruck stated, "The particular object of my invention is to provide a dog bed in which the dog can enter at his own will, when feeling cool, without help of human beings." He went on to add that a dog bed was intended to:
Provide a bed so that a dog could lay on top of the cover when feeling warm, without being disturbed by the entrance opening

Provide a compact dog bed where a cover blanket exists of two sheets with an opening on one side, with a means for increasing the thickness of the cover by sling paper or cloth in-between the sheets

Provide a dog bed where the dog can stand upright underneath the blanket and when lying down in the position wanted, will be covered up perfectly.

Provide a bed where a dog would have a healthy place to rest, regardless of the temperature or atmospheric conditions — particularly if plastic is used for the cover and foam rubber is used for the pillow filling in construction.
It took two years for the patent to be granted. (Christmas Day, 1956) Since then, there have been 33 more patents for dog beds. Kruck was a trailblazer for more advanced dog beds that are now fit for a king (or queen).
Key Factors to Consider
When choosing the best or right dog bed for your doggo, it's important to consider some key factors that go into getting the one right for your dog. Think about their sleeping style, first and foremost. Do they like to curl up and sleep or sprawl out? Do they like burrowing in something or leaning their head against something soft and secure? What about their size? If you have a lab, they need ample room to lay out, so a donut-shaped bed might be the wrong choice. If your dog spends a lot of time outdoors, look for a bed that contains a washable cover.
What about your budget? Nowadays, you can get a simple bed for around $20, or a luxurious one for about $150 or more. Moreover, think about the decor, as well, so the bed fits the colors and style of your home.
Popular Type of Dog Beds
There are several types of dog beds, with differing sizes, shapes, colors, textures, and designs. Here are the most common and popular ones on the market today.
Donut and bolster
Does your pup like to cuddle or curl up when anxious or afraid? The donut or bolster bed was specially designed to calm dogs since it allows them to lean against something soft and curl their body around themselves. It also helps them retain heat. There are several types of beds to consider, along with different sizes, to fit your dog's size and sleeping preferences.
Orthopedic
If your dog is reaching his golden years and experiencing joint pain, he may appreciate an orthopedic dog bed with a mattress for orthopedic support. These beds are especially suitable for thin dogs that have more prominent bones, as it provides extra cushioning to avoid painful pressure points. They are roomier, so it allows the dog to spread and sleep.
Pillow or Cushion
For dogs who enjoy sprawling out, consider a pillow or cushion bed. They are merely a large pillow or cushion that comes in several sizes and is great for any dog that wants to feel as if they're sleeping on a bed.
Heated
Just like humans have electric blankets or other heated blankets, dogs can have a heated bed too. These beds are warm and cozy and ideal for older dogs with painful joints. They will find relief from stiffness and inflammation. Also, if you live in a cold climate, a heated bed may very well be the perfect one for your dog, particularly if they sleep outside in a doghouse. 
Outdoor Cots or Beds
If you live in an especially hot climate and your pup spends his time outdoors, a cot may be your best bet. Since they raise your fur baby off the hot ground, they will be more comfortable. These beds are made of waterproof material, simplifying cleaning, and ensuring a long-lasting bed. Their sturdier frame is optimal for large breeds as well.
Tip: If your dog is still a pup, consider their full-grown size before choosing a dog bed
Benefits of Dog Beds
When thinking about what type of dog bed is right, it's good to also think about why a dog bed is right. Just like humans like to sleep on a bed, so might a dog. There are various benefits to a dog bed, which include:
Contributing to a healthy pup - Although your pup will likely sleep anywhere, even with you, if given a chance, it's best they sleep in their own bed. A dog bed will give your dog the ultimate sleep quality, but it will also help cushion old bones and help them relax. Instead of tossing and turning, they can sleep comfortably, knowing they are safe and supported.
Helping prevent behavioral issues - Like mentioned above, dogs love to be with their owners, even at night. However, it's never a good idea to have them sleep in the same bed. Here's why. If you do a lot of tossing and turning, you could hurt your pup by kicking them unintentionally. Also, your doggo might get the idea that she can spread out, which makes it more uncomfortable for you. Soon, she may get territorial and growl every time you demand her to come off the bed.
Keeping them warm - When the temps dip in the wintertime, you have nice warm blankets to cover up with, but your fur baby doesn't. A heated bed will keep them comfortable and warm. Exposing your dog to a cold floor isn't great for them, even if they have a thick coat. A heated bed if also comforting after coming in from the frigid outside. Vice versa, for a hot climate, to where a cooling bed would lower their body temperature and help them feel fresh and invigorated.
Preserving your furniture - As you know, most dogs shed, which means getting hair all over your floor or bed. It doesn't matter how much you vacuum, you will never get up all of a dog's hair, so having a dog bed keeps the hair trapped in one area. Most dog beds either have a removable cover you can machine-wash, or the whole bed can be tossed in your washer for cleaning.
Having his own place - When noisy children are about, or a sulky cat housemate is irritating, a dog wants to get away, just like humans do. And, since a dog sleeps more than ten hours a day, they need a cozy place to where they can retire. Keep in mind; dogs are territorial, so only allow the dog on the bed. If a cat tries to take it over, there may be a fight.
Taking the Dog Bed on Vacation? Contact Plush Paws
If you're planning a road trip this summer, bring your pup's bed along with you and visit our car seat cover shop to pick the best car seat covers. We have several colors, sizes, and textures to fit your vehicle and protect it from mud, dirt, water, or other debris. Contact us today and learn more.