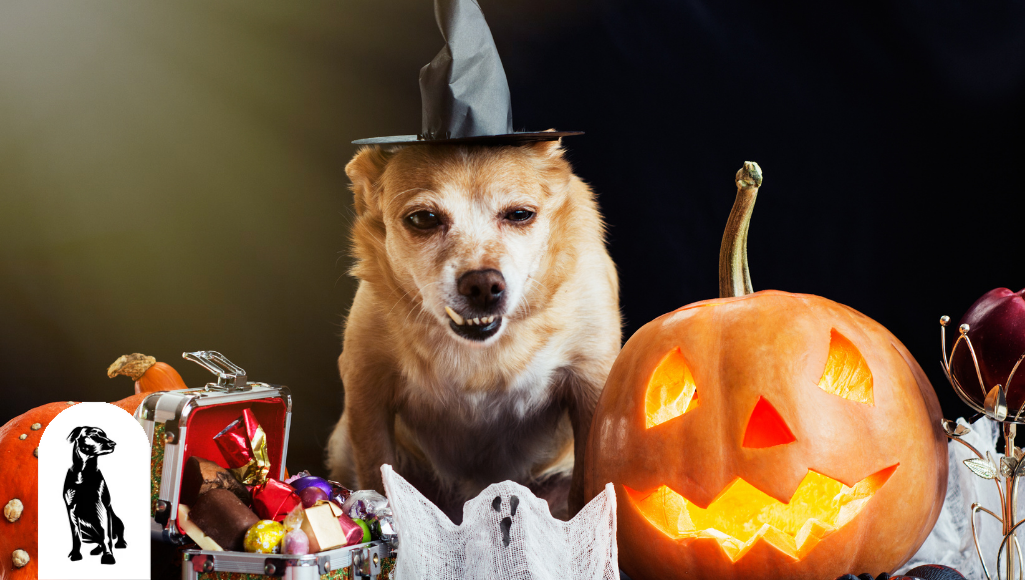 With the leaves on the ground and the air getting cooler, right now is the perfect time to whip up some Halloween treats for dogs! 
Get in a festive mood this season with your pup as you create some terrific treats for your furry friend! Sure, picking up some goodies at the local pet store is always a great way to show your buddy how much you love them, but if you're a wizard in the kitchen or even a total beginner, these Halloween treat recipes are the perfect way to offer some extra love this coming holiday. 
You might even consider baking up a big batch of treats and taking them to your friends and neighbor's dogs. Or if a doggie comes to your door Halloween night, you'll already be prepared for them to have some trick or treating fun, too! No matter what you end up doing with these treats, we know your dog and the dogs of the neighborhood will love them and you! 
Please note that we have done thorough research to ensure that all ingredients listed are not harmful to dogs. However, we encourage you to do your research, consult with your veterinarian, and use your best judgment to ensure your dog will not have a poor reaction to these tasty homemade treats.
Here are our top three favorite Halloween treats for dogs: 
PUP-kin Cookies
For us humans, nothing says "fall is here" like pumpkin cookies, so let's not leave out our furry friends! Pumpkin is excellent for dogs and has a good amount of fiber to keep your dog healthy, so these cookies are the perfect little treat! 
Ingredients:
1 ½ cups oat flour 
1 tablespoon cinnamon 
½ tablespoon ground ginger 
1 egg 
1 cup honey 
1 cup vegetable oil
1 cup pumpkin puree  
Instructions: 
Preheat your oven to 350 degrees Fahrenheit and line a baking sheet with parchment paper or a silicone baking mat.

In a large bowl, combine the flour, cinnamon, and ginger. 

In a separate bowl, combine the egg, honey, vegetable oil, and pumpkin puree. 

Add the wet ingredients into the dry ingredients, whisking until just combined. The mixture should resemble more of a batter than a cookie dough.

Using a two teaspoon cookie scoop, spoon the batter onto the tray, about one inch apart. This recipe will make about 50 cookies.

Bake for 12-15 minutes. You can test for doneness by inserting a toothpick, and if it comes out clean, the cookies are done.

Make sure to let the cookies cool completely before serving! 
Recipe note: If you have extras, these cookies are perfect for freezing!
Apple Crunch Pupcakes (from Lola the Pitty)
Think cupcakes, but make it dog-friendly and fall-themed! These pupcakes are the perfect autumn treat as they play on the flavors of a freshly harvested fall apple. 
Ingredients:
2 cups water
¼ cups apple sauce (unsweetened/natural)
¼ tsp vanilla extract
1 egg
4 Tbsp honey
4 cups whole wheat flour
1 Tbsp baking powder
1 cup chopped apples (about 1 apple)
1 cup white melting chocolate (for decoration, optional) 
Instructions:
Preheat oven to 350 degrees Fahrenheit and grease a muffin pan or line with cupcake tins.

Mix water, apple sauce, vanilla, egg, and honey until thoroughly combined in a large bowl.

In another medium bowl, combine the whole wheat flour and baking powder. 

 Pour the dry ingredients into the wet ingredient mixture and whisk together until just combined.

Gently fold in chopped apples.

Spoon mixture into the greased or lined muffin pan. This recipe should make exactly twelve pupcakes.

Bake for 35 minutes and let cool completely before serving or decorating.

If you choose to decorate your pupcakes, melt your white chocolate in the microwave in 30-second intervals, stirring in between until your chocolate is the right consistency.

Spoon your white chocolate into a piping bag and decorate as you please!
Recipe note: While these pupcakes are absolutely adorable, they're pretty large for a dog to consume all at once. You can opt for a mini-muffin pan and reduce the baking time, or you can pull apart a cupcake and give your fluffy friend bits of it over a few days. 
Skeleton Bone Dog Biscuits (Inspired by The Midnight Baker)
These little bone treats are the easiest way to show your pup some love this holiday season! All you need is a few simple ingredients and a bone-shaped cookie cutter to make these Halloween treats for dogs!
Ingredients: 
2 cups whole wheat flour + more for dusting
¾ cup rolled oats
1 cup pumpkin puree 
2-3 tablespoons of water 
½ cup white melting chocolate (for decoration, optional) 
Instructions: 
Preheat the oven to 350 degrees Fahrenheit and line a baking sheet with parchment paper or a silicone baking mat.
Mix the flour, oats, and pumpkin puree by hand in a bowl or using an electric mixer). 
Add in enough water to roll out the dough on a flat surface (like a sugar cookie dough consistency). 
Sprinkle some whole wheat flour on a clean, flat work surface, and roll out the dough to a ¼ inch thickness. 
Cut out your bone shapes and place them on the prepared baking sheet. This recipe should make about two dozen biscuits (depending on the size of your cookie cutter). 
Bake the biscuits for 30-35 minutes, then turn off the oven and let them cool in the oven until they reach room temperature (this will help them dehydrate). 
Serve once cooled while fresh or store in an airtight container for up to five days. 
Plush Paws Products for Your Pets 
If you're thinking of whipping up any of these Halloween treats for dogs, we know you love your pet. And while treats are a great way to show them you love them, so is taking care of their health and making sure they have a comfortable car ride every time. So, check out our line of health products and car seat covers that your pup is sure to love! We ship worldwide for all our fellow dog lovers out there, so don't wait! Order today!