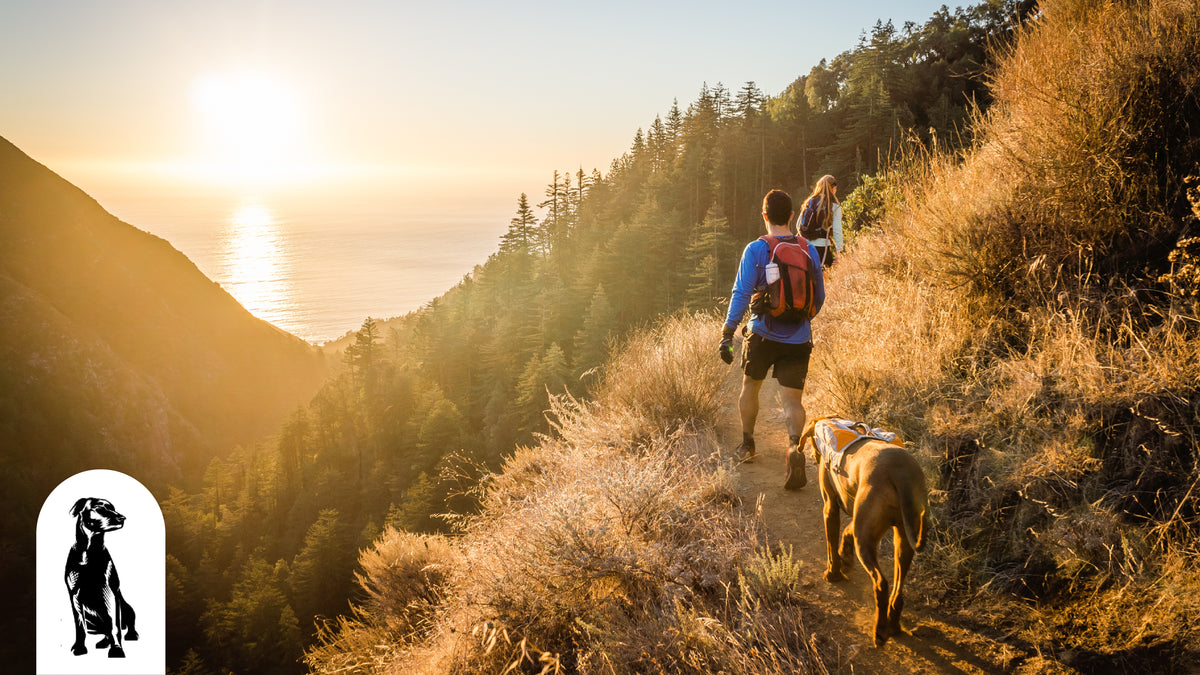 Being with a dog in nature is a beautiful mixture of solitude and companionship. You've got someone to talk to and a companion for the road, but you can also get away from it all and recharge. Finding dog-friendly nature trails near me is always a great way for me to connect with myself and my dog.
Hiking is a great way to entertain a bored dog, and it gives you and your canine an activity to bond over.
What to Look for in Dog-Friendly Hiking Trails
Look up the trail on the internet before you visit. If the trail or park has a website, or is listed on the city or state website, there might be mention of dogs. If not, use an alternative resource, like BringFido to see whether or not the location is actually dog-friendly. The dog owners in the community generally know where to go.
Appropriate Weather, Terrain, and Distance
Everyone has a different dog. Your dog has a specific set of physical parameters, and you'll need to know about your dog's cardiovascular and strength abilities. Don't get overambitious with your dog without knowing what they are capable of. Start with more gentle inclines and altitudes over shorter distances. Avoid extreme weather conditions, and make sure to take plenty of extra food and water.
Also, and this should go without saying, but you'll need to make sure that you (as the human) stay safe on the hike. There isn't much you can do for your dog — or, in many cases, your dog can do for you — if you are exhausted, injured, or suffering from dehydration. Take plenty of water and food for yourself, and don't push your abilities when you have a dog to be responsible for as well.
Access and Proximity
Finding some dog-friendly nature trails that are near or far provides a few different options for hiking. There will be times where you really want to get your dog some exercise but don't have a ton of time to drive an hour there and back. You'll need to have a few go-to trails that are near your house, and then you'll be able to explore the trails that are farther away when you have more time.
Know your dog. Some dogs can ride in the car a real long ways and remain happy, while other dogs are restless. Plus, consider the roads. Driving with a dog in the car can be distracting, and those mountain roads that you might be taking to get to cool hiking destinations might be windy as is. If it's night or foggy, it might be even worse.
Examples of Dog-Friendly Hiking Trails
Going to dog-friendly nature trails is always inspiring, but it's also cool to see what the rest of the United States has to offer. If you live near one of these dog-friendly hiking trails, be sure to check it out, because these are some of the best.
Kootenai National Forest
We're starting at the more extreme end of the "dog-friendly" spectrum. We might call the Kootenai National Forest "dog-allowed," but not necessarily "dog-friendly." This national forest has a lot for the dogs and owners on the grittier side of adventure. If you and your dog are tough enough to face the numerous wild animals and the frigid temperatures, it can make for a life-defining nature experience — but it's definitely not for the faint of heart. Don't let your dog swim in the lake at Spar Peak if you take the Spar Lake Trail because even in the summer, it is probably too cold to be safe for your canine.
Maine's Acadia National Park
Most of the park trails allow dogs if they're on a leash, and campgrounds and picnic areas are perfect for your dog as well. There's a ton of trails that allow dogs, although some don't, so check out the national park site before adventuring over!
Red Rock Canyon National Conservation Area
The Red Rock Canyon National Conservation Area is only a short drive outside of Las Vegas, and features gorgeous red rocks and a bunch of Joshua trees. The mountains offer expansive views and amazing sunrises and sunsets. It's a gorgeous place to wander around with your dog.
Fairmount Park
It would have to be a pretty big park to make our list of the top dog-friendly hiking trails, and Fairmount Park in Philadelphia is one of the biggest urban parks in all of the United States. There's a massive amount of space for you and your dog to explore. 215 miles of trails allow you to get walking without going too far outside of the city, perfect for those lazy Sundays where you crave an adventure without the long car ride.
Runyon Canyon Park
Runyon Canyon Park, right outside of Hollywood, is a California dog's dream. Many of the trails even let your dog run around without a leash on. The proximity to all of the wonderful Los Angeles groomers and even the Los Angeles County Museum of Art — which allows dogs inside if they're on leashes. It's the perfect dog-friendly park with loads of hiking, located just outside one of the most dog-friendly cities in the United States.
Appalachian Trail
Yes, dogs are allowed on the Appalachian trail. It runs through 14 states from Maine all the way down to Georgia, and constitutes a monumental version of the "W-A-L-K". Maybe don't go for the whole thing at once? Pick a spot and go for an adventure along this historic walk.
North Carolina and Tennessee's Great Smoky Mountains National Park
The Great Smoky Mountains National Park has over 800 miles of trails that span over multiple states. While the park is beautiful, many of the trails don't allow dogs — however, the one that does is so gorgeous and expansive that it's worth mentioning. Gatlinburg Trail on the Tennessee side of the park allows dogs, and it's worth the adventure.
Interested in taking your dog beyond the trails? Check out our guide to some of the best dog-friendly travel destinations.

How to Have The Best Hike with Dogs
Travel Smart
The trip in the car to the spot that you will hike will, in many ways, define the tone of the hike. If your dog is uncomfortable in the car and gets sick on the way there, the hike will have an entirely different vibe. There are a few things that you can do to make sure that the passage over to the hike goes smoothly:
Make sure that you've got some seat covers to prevent the car from getting dirty on the way there or the way back! Especially after the hike, your dog may be a bit dirty and restless. You want to prevent your car from getting messy amidst all the wilderness fun by covering the seats.
Hiking with a Small Dog
Small dogs can be tricky to keep comfortable while traveling. And remember that some small dogs are better for traveling than others. Small dogs have less physical abilities than larger dogs, so make sure to start small and build their abilities. Take good care of your small dog on hikes by picking the right trails and bringing plenty of gear. Be more ready to stop. You can even get a special backpack so that they can ride along when they get tired!
Final Thoughts
As you head out, make sure you stock up on the essentials:
Dog Hiking Gear List
Car seat covers

for traveling

Snacks for both you and your dog

Appropriate human hiking gear

First aid for the dog

Boots or wax for rough paw conditions
Safe travels, and happy hiking!