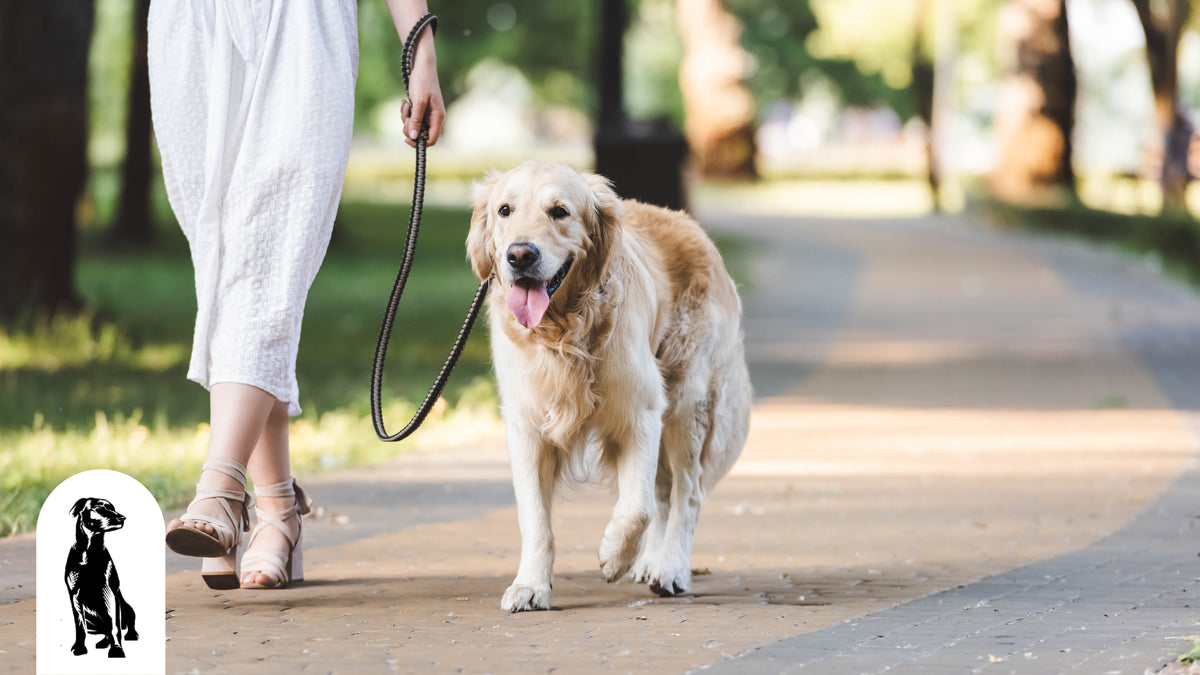 Exercise is about as good for dogs as it is for humans, which is to say it is great! Walks with your dog are powerful times of athletics and bonding. They expand your dog's worldview, give them time to play outdoors, and are also good for you, the human! Remember that when you're wondering how often should I walk my dog, you're also wondering how often you're going to go on walks!
The frequency with which your dog needs to be walked will depend on a variety of factors, including your dog's health, breed, age, and lifestyle. It also will depend on the kind of walks that you go on and the availability that you have. In this post, let's look at the benefits of dog walking, and some factors that affect the ideal frequency that you walk your dog.

Walks Are Amazing for Dogs and Humans
For the Dog
Yes, your dog does need daily walks. It's just better for them. Walks are good for dogs for a variety of reasons:
You want your dog to get a good amount of exercise.

Failure to exercise leads to worse behavior from your dog, which can strain your relationship with your dog.

It teaches them how to be social. Getting out and about into the world is necessary for your dog to learn how to interact with others.
For You
Forget walking a dog, even owning a dog is good for your health. Dogs are great companions that make us feel better, give us some extra purpose, and help us exercise more. Showing love and attention to others, including our dogs, is something that gives us purpose and meaning in life. In addition to the feeling of exercise, you'll also get the daily practice of going for a walk. Because it's just you and your dog, this walk is a chance to think, reflect, and meditate. You can use the time to unwind and decompress, or even pop on a podcast for you and your canine buddy! It's also a great way to improve your relationship with your dog.
Walking a dog is not going to be a practical solution for everyone. There are time and physical constraints that make dog walking an impractical solution for many different kinds of people. But if you're able and have the time, walking your dog can be an intensely important practice. 
Dog Walking Essentials
A speaker. Get something that plays low, but great quality music and podcasts to keep you and your dog entertained.

A leash. This one is a given, but get a leash that works best for you and your pup.

Doggy bags. Yes, it's super rude not to pick up for your dog. 

Seat covers

! While you might not be traveling to interesting walk locations every day, you will do so often enough that using seat covers will be essential to travel.

Clothes that you want to walk in. What we

wear to work out matters

. If you don't have clothing that you love walking in and are comfortable walking in, then that is likely to be a barrier to go on walks. Which means that you and your dog will be missing out.

Benefits Of Walking Your Dog Daily
There are many benefits of walking your dog daily. If you're wondering how often should I walk my dog, daily is really the best answer. There's a ton of research that shows that people who own dogs get more exercise and more time outdoors, and that's directly related to their dogs. Use your dog as an excuse to take time for yourself! Enjoy the walk, and walk for you as much as them. Don't think about walking the dog as a chore but rather as something that you can do for yourself that your dog gets to participate in.
How Long Should I Walk My Dog Each Day?
There's really no answer that you have to stick with on this one. Some dogs are going to thrive with more walking while others can do with less.
Walking your dog is a great way to prepare them for hiking season. Hiking with your dog can be a ton of fun, as it's a chance for them to explore new places and get a different kind of exercise. It expands the horizons for your dog and gives you and them a chance to play in new environments.
Should I Use a Dog Walking App?
Sure! There are plenty of great dog walking apps that you can use to get some extra exercise for your dog. While you're going to miss out on some great bonding moments and opportunities for yourself to decompress and get some exercise, you can definitely supplement your walking schedule with walking apps. Walking apps help socialize your dog by introducing them to new people. Also, many people don't have the schedule or the physical capabilities to go on long strolls with their dog very often. Definitely consider using some walking apps to get your dog some extra exercise, socialization, and outdoor time.
Where Can I Walk My Dog Near Me
Your neighborhood is a great place to start. While the great, far outdoors might be really exciting for city-dwelling dog walkers, it often isn't a practical solution. One of the most important things that you can do with your dog is getting into a great rhythm of walking them. 
Considering the question: "where can I walk my dog near me?" For daily use, the closer the better. Committing to a 30-minute drive just to get a 20-minute walk each day isn't practical for most of our schedules. Consider the fact that when you're wondering how long should you walk your dog each day, you'll probably be shaving time off the walk when you use it to drive. It might be better for your schedule and your dog to stay close to home.
Trying to walk your dog farther away? Investing in some sweet co-pilot seat covers will make the experience more comfortable for you, your dog, and your car. Your dog is your co-pilot and they deserve to be treated that way on the way to the walk, as well as on the walk. Maybe even let them pick the music? Okay, maybe too far. You maintain that aux cord privilege.
Indoor Exercise
Exercising your dog indoors is going to be necessary at times. If you live in a place where it is cold, the weather can be bad for your dog's health. Avoid the chill by learning to exercise your dog indoors when you need to. Here are some different ways you can exercise your dog indoors:
Use the treadmill!

Play tug of war.

Set up an agility course and teach your dog to run through the course, especially for some treats.

Have a friend bring their dog over, or go to a friend's house with your dog.

Invest in a new toy. There are tons of amazing dog toys that are being sold on the internet. With some quick Google sleuthing, you could turn up something really interesting.
Conclusions
It's super healthy to go for a walk each day, for you and for your dog. If you have the time and are able, try to carve out even 15 minutes in the morning or in the evening to trot around the neighborhood with your dog in tow.