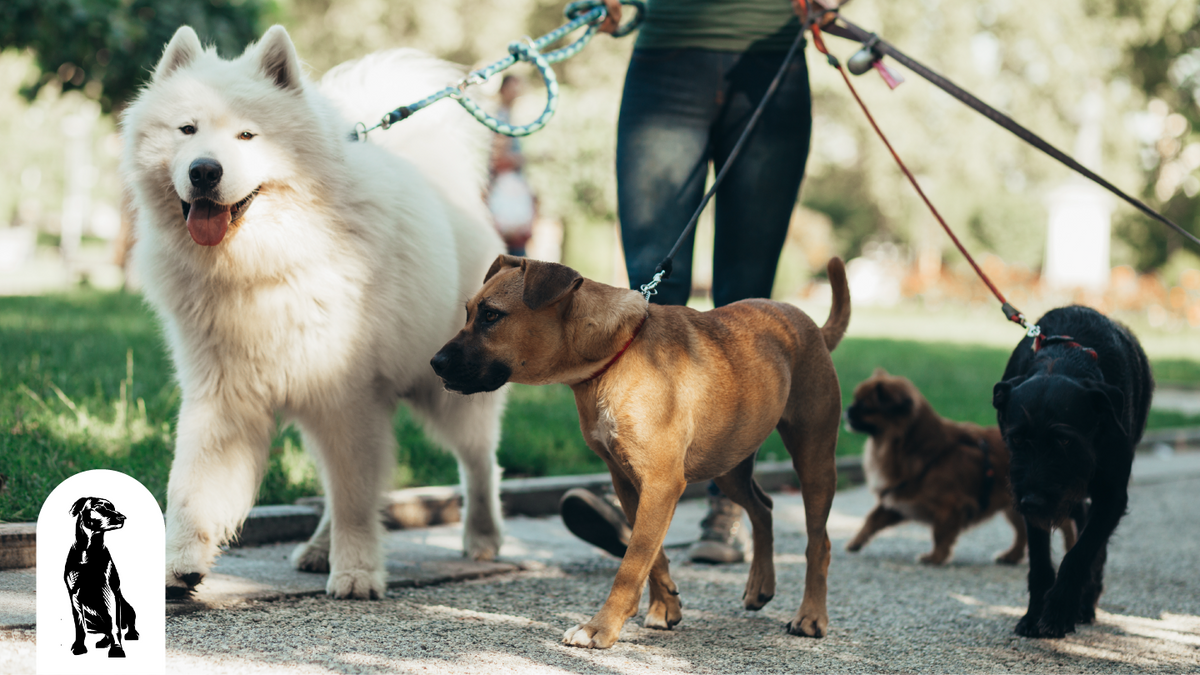 Sometimes life gets a little busy, and you need a little help getting your dog out and about for some exercise and fun. These days, you don't want to search Craigslist to find a dog walker. You don't want to run around downtown, looking for a poster with tearable phone numbers advertising a dog walking business. You need an app that you can easily load and use anytime, to find great dog walkers who can give your canine friend a little bit of exercise, and for not a lot of money. We're gonna take a look at some of the best dog walking apps, and also check out what you might be looking for in a dog walker.
Why Are We Walking?
Your dog really does need to be walked every day. Even if you're only using an app for a few days a week and doing the rest yourself, walks go a long way in establishing good mental health for your dog. 
Hiking with your dog
Of course, walking may not always be the endgame. Sometimes, you want to prepare your dog for more rigorous activity, like during the hiking season. While the best kind of training would be to take your dog hiking often, it's probably impractical to hit the trail every single day. However, you might be able to go on a vigorous walk every day, so that when the weekend rolls around, your dog is hike-ready.
Lifestyle benefits
Think about how good you feel when you exercise. Your dog feels much the same way. When they get out, stretch their legs, and put a bit of mileage on those muscles, they get the same kind of dopamine and endorphin rush that we humans experience. Dogs that get good quality exercise are going to be happier and healthier than dogs that don't. 
Spring thaw
Dog walking is one of the fun things you can do with your dog in the spring; you'll find that it's a great activity for spring. After the winter season thaws, it's important to start getting your dog exercise, so that they've got that summer-dog-body ready to move, and stay cool and healthy.

Dog Walking Apps
Here are some of the best apps to find dog walkers, which also offer services at pretty low rates. But before we dive into fees, it's important to know what to look for in a dog walking app. You want something that allows you to easily communicate and maybe even pay the people walking your dogs.
Best Dog Walking Apps
PetBacker

is an app that extends beyond dog walking to dog sitting, and all sorts of pet-care services. PetBacker has a bunch of profiles that have been reviewed, complete with previous job reviews and ratings, so you can grab only the best sitter or walker for your dog. The entire community is full of pet lovers, and many people both provide and receive the services of the app. Plus, you can communicate entirely within the app without ever leaving it. Your pet is also insured, just in case something happens.

Rover

also offers an assortment of pet services through an easy-to-use app interface. They have all their sitters and walkers pass a background check, and receive approval from Rover's team of specialists. Once you're using Rover, you can easily communicate and pay sitters without ever leaving the app. The in-app payment structure means that you never have to have cash sitting around as payout for your dog walker.

Wag!

specializes in dog walking services and offers a variety of pet sitting options. They have some pretty impressive rates, too; their basic package allows you to get your dog a little bit of exercise, and a potty break for only $20. They offer insurance on your home so you know that you're protected, and they also perform extensive background checks on everyone who could be handling your dog. 
Find a Dog Walker
Whichever app you end up using, you'll still have to find and connect with a dog walker on the app. There are two types of people that you should be looking for: people who have a lot of great reviews, and people who are new to the site and look like they're about to have a lot of great reviews. Getting the best, top-reviewed dog walking talent can be tricky, because they might already have a number of clients and might not quite fit into your schedule. But, if you see someone on the app that is new and has a profile that you're willing to bet on, you might be able to get top-talent with high availability.
There are also a ton of great apps for dog owners on the go, who need to keep their dogs happy while traveling or in road-trip scenarios. If you're taking your dog on vacation, try to use the host home services that most of these dog walking apps offer so that you can have an extra spot for your furry friend to stay while you hit up the nightlife of the town! Remember that once on these apps, you can use them in different locations to bolster the vacation experience for you and your dog.
Best Dog Walker Rates
Wag! offers dog walking services for rates as low as $20, which is not that bad. They also offer a special promotion, which allows you to get your first dog walk free so that you can test out the app and the service to see if it's something that you're happy with. You can also board a dog overnight for rates around $40 in most cases.
Rover offers some pretty competitive dog walker rates. They cost $20 for a short walk and $30 for the longer, hour-long walks. Rover allows its users to set their own rates for overnight boarding services, but most of these cost around $40 as well. PetBacker's fees are a little harder to track down but hold steady around those same rates.
What to Look For in a Dog Walker
You and your pup deserve the best. Find somebody that you trust and enjoy, and somebody that your dog trusts and enjoys as well. If you have the kind of dog that loves people, make sure they love your potential dog walker right after the first meeting. Doggy seat covers in the car are a bonus.
If you're looking for a dog walker with whom you want to form a longer relationship, then make sure that you give yourself, and your dog, time to adjust and trust. You can do this by setting up a (paid!) playdate or group walk with you, your dog walker, and your dog. Here are some things to look for in a dog walker:
Professionalism and reliability:

It doesn't matter how much they love your dog, or how much your dog loves them. If the dog walker isn't professional and reliable themselves, you'll have to deal with missed appointments and a variety of personal problems. Reliability and professionalism are therefore two of the most important qualities in a dog walker.

Dog-knowledgility:

Again, they may really love dogs, and your dog might really love them, but without a good bit of know-how, they might not be a competent dog walker. You want someone who can handle your dog out in the streets and reinforce behaviors that you're working on.

Compatibility:

It is important that your dog walker gets along with

you and your dog

. You'll be seeing them often, and trusting them to take care of a beloved pet, so get someone that you can appreciate.

The right gear:

If they're transporting your dog, make sure they have food, water, and the best quality

cargo liner

to make your canine companion more comfortable.
What is the best dog walker app?
When considering an app for finding a dog walker, there is no absolute best platform to use. Different apps will provide you with a broad range of animal lovers, all of whom would be eager to take your pup for a walk. It is most important that you take the time to find an individual who meshes well with your lifestyle and personality.
Good luck with your dog walker search! 
Think we missed an app that deserves a shout out or have feedback on one of the apps mentioned above? Let us know!