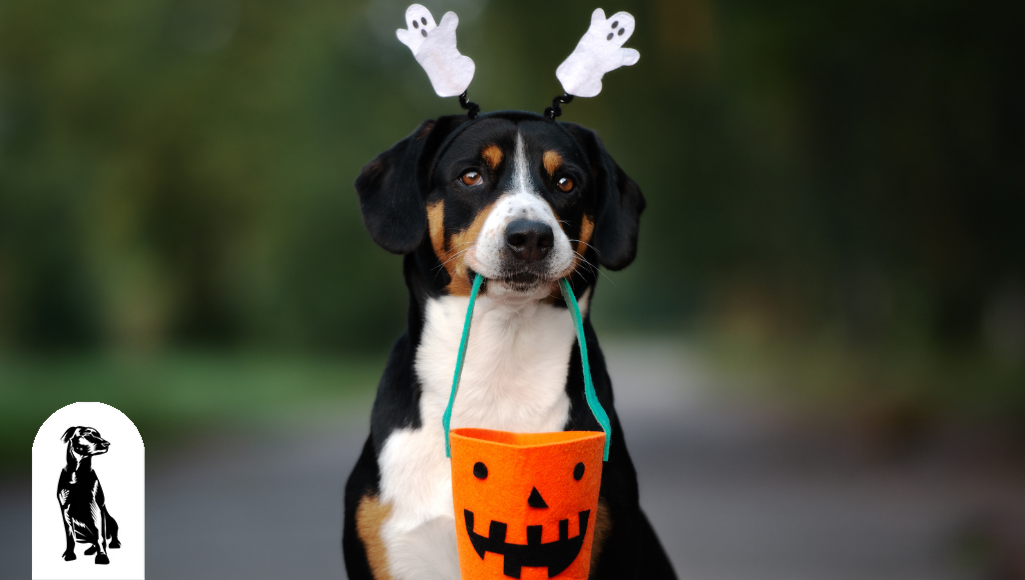 Halloween is right around the corner, and if your dog is your child, you can't go wrong with looking up matching Halloween costume ideas!
Due to COVID-19, we can expect Halloween in 2020 to be different from most years, to say the least. If you're planning on staying home this year, you should still make the most of it by wearing matching costumes! Dressing up with your pup is a once-a-year opportunity (unless you like to match with your dog all year long, we don't judge!) You can set-up an adorable photo shoot to commemorate this special spooky day. 
Here are five fun matching costume ideas that will complement both you and your pooch!
1. Hot Dog and Hot Dog Vendor Costumes
Hot diggity dog! Come on, it doesn't get cuter than dressing up your dog as a hot dog. If you take out your dog on a walk this Halloween, you and your four-legged friend are bound to be the center of attention. Not only is this costume funny and quirky, but it's also inexpensive. You may only need to buy the hotdog outfit for your dog. 
As for your costume, all you'll need is an apron and server hat to dress up as a vendor. We recommend wearing a red apron to really embody the hot dog vendor spirit, but any apron color will do. Since this costume is as simple as it gets, you can just throw on your hat and apron over your outfit, perfect if you're going to work that day!
Bonus: This costume is even funnier on dachshunds, the most hot dog looking dog! However, it goes great on dogs of all breeds. 
2. Dorothy and Toto from The Wizard of Oz Costume
Everybody who's anybody grew up watching The Wizard of Oz, the timeless film that's widely regarded as one of the greatest movies of all time. The film's main characters, Dorothy Gale and her dog, Toto, are an iconic duo in popular culture. Travel down the yellow brick road to the land of Oz with your fluffy friend this Halloween! 
All you'll need is Dorothy's classic outfit, which consists of a blue gingham or plaid dress over a white shirt and a pair of shiny red slippers. Just throw your hair in some pigtails, and you're ready to be Dorothy Gale the rest of the day! As for your dog? They're already their own version of Toto, so they're already good to go. 
3. Little Red Riding Hood and the Big Bad Wolf Costumes
Next on our list of matching Halloween costume ideas for you and your pup is inspired by the classic European fairy tale, Little Red Riding Hood. To channel your inner Little Red Riding Hood, all you'll need is a red hooded cape, a dress, and a small basket. A black, white, or red gingham dress is perfect for replicating her look, but if you live in a cold region, you can slip into something warm and cozy like denim jeans and a t-shirt. Since there are several versions of this classic tale, there's no right or wrong way to dress up as her. It's all about that red cape, after all!
If your dog is as ferocious as a wolf but doesn't quite look like one, you can buy them a comfy wolf costume. This costume is perfect for both small dogs with a wolf's howl and big dogs that are close in size to actual wolves!
Bonus: You can fill your basket to the brim with candy. Talk about sweet!
4. Waffles and Eggs Costume
You read that right—you and your dog can dress up like a waffle and egg! You won't have to skip out on the perfect breakfast combo this Halloween. After all, breakfast is the most important meal of the day. The idea is simple: your pup will need an egg costume, and you'll need a waffle one.
Are you a DIY aficionado? If so, grab a white t-shirt for your dog and paint a cute, yellow "egg yolk" on top. To complete the breakfast platter look, get the rest of your family to dress up as other delicious classics, such as bacon, pancakes, and coffee. 
5. Bee and Flower Costume
You and your honey can dress up as a cute bee and flower. If you're not looking forward to answering the infamous questions, "Who are you supposed to be?" this Halloween, this adorable matching dog and owner costume will be easy for people to understand at a glance. As the flower, you can get as creative as you want with your costume. Opt for a flashy green dress or the classic combination of leggings and a green shirt. To complete your floral flare, you can buy a felt flower piece for your head or simply wear a flower crown. 
As for your cute companion, simply buying them a bee costume, complete with antennae, is all they'll need. Just imagine seeing your best friend with a pair of wings!
The Importance of Bonding with Your Dog Year-Round
We can't stress this enough: the bond you share with your dog is everything. Although wearing matching costumes with them once a year is cute, you should always do your best to shower your pooch with all the love and care in the world. Remember, love is the reason your dog snuggles up with you at the end of a long day, and a meaningful bond with them is worth a lifetime. 
Spending time with your dog, ensuring they're healthy, and spoiling them will keep them happy. You don't need a special occasion to give your fur baby gifts. 
The Best Halloween Treat for Your Dog is Plush Paws Products
Now that you know a few cool matching Halloween costume ideas for you and your dog, consider spoiling them with everyday luxury products from Plush Paws Products. Check out our shop today for our premium selection of velvet, waterproof car seat covers, dog-friendly multivitamins, and cutting-edge eye drops.